World
Powerlifter Othman celebrates birthday with gold and world record
Source: Xinhua | 09-11-2008 19:28
Special Report: Beijing 2008 Paralympic Games

BEIJING, Sept. 11 (Xinhua) -- It is a day to be remembered for the whole life for Sheirf Othman, who received a special gift for his 26th birthday -- a Paralympic gold medal plus a world record.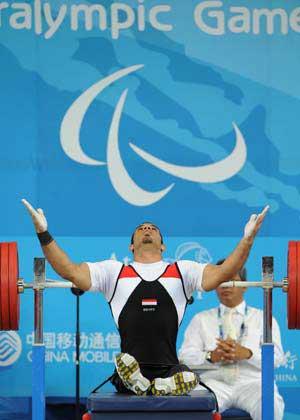 Sherif Othman Othman of Egypt reacts during the
men's 56kg final at the Beijing 2008 Paralympic
Games Powerlifting event in Beijing, Sept. 11,
2008. Othman broke the world record and claimed
the title with 202.5kg. (Xinhua Photo)
The Egyptian powerlifter will turn 26 next Monday. However, the celebration has already begun as he lifted 202.5kg to claim the gold in the men's 56kg category and a new world mark on Thursday.
"It is the first time I celebrate my birthday in a foreign country," said Othman. "The gold medal is the best birthday gift ever."
Othman asked for 195kg in his first attempt, and lifted it easily to break the old world record of 194kg held by Chinese Wang Jian. He lifted 200kg in his second attempt and 202.5kg in third.
Rasool Mohsin of Iraq took the silver in 185kg, with Jung Keum-Jong of South Korea picking the bronze in 180kg. Wang Jian, winner of the event in 2004 Athens Paralympics, finished fifth.