World
Paralympic torch relay begins its journey in Luoyang
Source: CCTV.com | 09-04-2008 08:56
Special Report: Beijing 2008 Paralympic Games

The Beijing Paralympic Games torch relay has begun its journey in Luoyang, a well-known cultural city in central China's Henan province.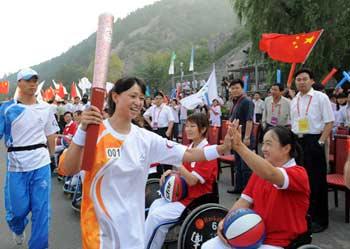 First torch bearer Zhu Hongyan, a famous blind swimmer
The relay in Luoyang is along the "Ancient China" route, designed to showcase China's history and cultural heritage. After Luoyang, the Paralympic flame will return to Beijing to join the flame from the "Modern China" route. Today's relay started at 8 o'clock.
It is running along the long-celebrated Longmen Grotto scenic spot. Luoyang's mayor, Guo Hongchang, presided over the ceremony to begin today's relay leg. The Vice Governor of Henan province, Song Xuantao, launched the start of the relay in the city.
Today's first torch bearer was Zhu Hongyan, a famous blind swimmer. She won a total of 9 gold medals in the previous two Paralympic Games, 5 of them in Sydney alone. She also won 6 gold medals in world championship tournaments. She's still the holder of 4 world records. A total of 70 torch bearers are running today. Among them are disabled athletes who have participated in national games or previous Paralympic Games and representatives who have been committed to improving the welfare of disabled people. The last torch bearer today is Liu Zhengwei, executive secretary of the Luoyang Disable Persons' Association.
Luoyang was the capital of the East Han Dynasty, some 1,800 years ago. The city played an important role in China's cultural exchanges with the outside world. China's first Buddhist temple, the White Horse Temple, is in Luoyang.
And the Longmen Grotto is one of the country's 3 most important sites for Buddhist sculptures and carvings. First carved in North Wei Dynasty, over 1,500 years ago. The Grotto is a UNESCO-designated world cultural heritage site.
Editor:Du Xiaodan