World
UN tribunal enters plea for Karadzic
Source: CCTV.com | 08-30-2008 08:55
The United Nations Yugoslav tribunal has entered plea of not guilty on behalf of former Bosnian Serb leader Radovan Karadzic. This comes after the 63 year-old refused to cooperate, refusing to recognize the court as legitimate.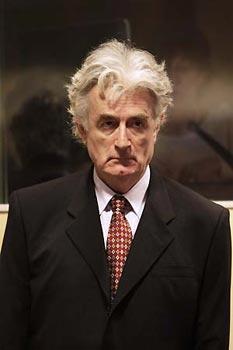 Former Bosnian Serb leader Radovan Karadzic
attends a hearing at the United Nations
tribunal in The Hague August 29, 2008.
(Xinhua/AFP Photo)
For the second time at the court in the Hague, Karadzic refused to enter pleas to 11 charges, including genocide and crimes against humanity.
Radovan Karadzic said, "I will not plead, in line with my standpoint as regards to this court."
The next hearing is scheduled on September the 17th. No trial date has yet been set.
The prosecution team at the pre-trial hearing said that they planned to file an amended indictment by the end of next month.
Karadzic repeated his opposition to the court's legitimacy and stated that he feared for his life.
Prosecutors accuse Karadzic of orchestrating a savage campaign of ethnic cleansing to drive Muslims and Croats out of territory claimed by a breakaway Bosnian Serb ministate.
Karadzic was arrested in July in Belgrade.
Editor:Si Qintu