World
IOC chief: Beijing Olympic Games "truly exceptional Games"
Source: Xinhua | 08-25-2008 08:42
Special Report: 2008 Beijing Olympic Games

BEIJING, Aug. 24 (Xinhua) -- The Beijing Olympic Games are "truly exceptional Games," said International Olympic Committee (IOC) President Jacques Rogge at the Games' closing ceremony staged in the National Stadium in northern Beijing on Sunday night.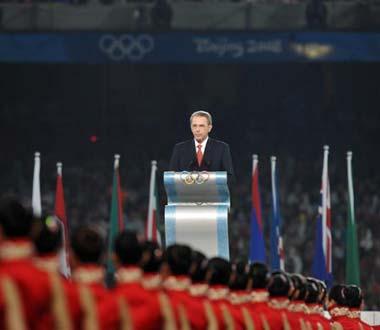 International Olympic Committee (IOC) President Jacques Rogge
delivers a speech at the Beijing 2008 Olympic Games closing
ceremony in the National Stadium, or the Bird's Nest, in
Beijing, China, on Aug. 24, 2008. (Xinhua Photo)
He repeated the words in French.
"Through these Games, the world learned more about China, and China learned more about the world. Athletes from 204 National Olympic Committees came to these dazzling venues and awed us with their talent," Rogge said in his closing speech.
The IOC president said the past 16 glorious days will be cherished forever. "New stars were born. Stars from past Games amazed us again. We shared their joys and their tears, and we marveled at their ability. We will long remember the achievements we witnessed here."
He praised the athletes as "true role models". "You have shown us the unifying power of sport. The Olympic spirit lives in the warm embrace of competitors from nations in conflict. Keep that spirit alive when you return home."
Rogge expressed best wishes for the athletes who will participate in the upcoming Paralympic Games, scheduled for Sept. 6-17. "They also inspire us."
He also thanked the people of China, all the volunteers and the Beijing Organizing Committee of the 29th Summer Olympics.
At the end of his speech, Rogge declared the closing of the Beijing Games in French, and called upon the youth of the world to assemble four years from now in London to celebrate the 30th summer Olympic Games.
Editor:Sun Tingting