World
Russia wins rhythmic gymnastics team gold at Beijing Olympic Games
Source: Xinhua | 08-24-2008 15:57
Special Report: 2008 Beijing Olympic Games

BEIJING, Aug. 24 (Xinhua) -- Russia took the gold medal of rhythmic gymnastics team event with a total of 35.55 points at Beijing Olympic Games here on Sunday.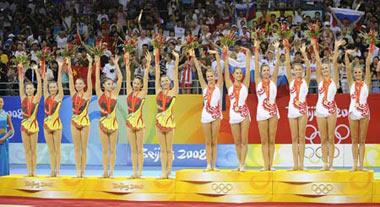 Gold medalists of Russia (R) and silver medalists of China stand
on the podium at the awarding ceremony of the group all-around
final of Beijing Olympic Games gymnastics rhythmic event in Beijing,
China, Aug. 24, 2008.(Xinhua Photo)
China won the silver medal at 35.225, followed by Belarus in the third place at 34.900.