World
Zou Shiming wins China´s first Olympic boxing gold medal
Source: Xinhua | 08-24-2008 15:01
Special Report: 2008 Beijing Olympic Games

BEIJING, Aug. 24 (Xinhua) -- Light flyweight (48kg) boxer Zou Shiming won China's first boxing Olympic gold medal by beating Mongolia's Serdamba Purevdorj 1-0 at the Beijing Olympics on Sunday.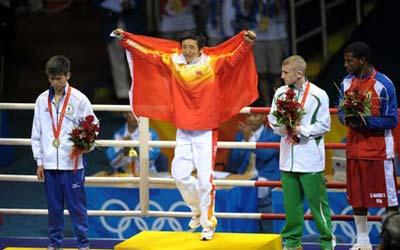 Gold medalist Zou Shiming(L2) of China reacts on the podium at
the awarding ceremony of Men's Light Fly(48kg) of Beijing 2008
Olympic Games boxing event at Workers' Gymnasium in Beijing,
China, Aug. 24, 2008.(Xinhua Photo)
It was also China's 50th gold medal in this Games. Zou won the match easily as the Mongolian accidentally injured his shoulder at the second round and had to withdraw from the competition.