World
Kenya´s Langat wins women´s 1500m gold at Olympic Games
Source: Xinhua | 08-23-2008 23:45
Special Report: 2008 Beijing Olympic Games

BEIJING, Aug. 23 (Xinhua) -- Kenya's Nancy Jebet Langat won the women's 1,500 meters gold medal at the Beijing Olympic Games here on Saturday.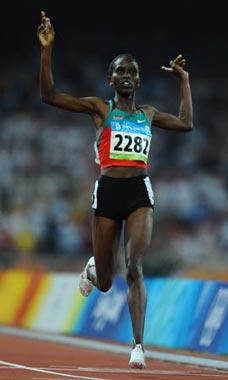 Nancy Jebet Langat of Kenya gestures as
she crosses the finish line during the
women's 1,500m final at the National
Stadium, also known as the Bird's Nest,
during Beijing 2008 Olympic Games in
Beijing, China, Aug. 23, 2008. Nancy jebet
Langat won the title with 4:00.23.
(Xinhua/Guo Dayue)
The 27-year-old clocked her personal best of four minutes and 0.23 seconds for the gold. Ukraine's Iryna Lishchynska took the silver in 4:01.63 and her compatriot Nataliya Tobias won the bronze in 4:01.78.
In the first 400 meters, the race was led by Russia's Anna Alminova and Iryna Lishchynska of Ukraines, the bronze medalist of the 2007 world championship.
Maryam Yusuf Jamal of Bahrain, the world champion soon caught up with the top echelon and overtook them to spearhead. Langat was trailing them behind.
When Jamal seemed to be assured of the gold as 1,200 meters had been covered, Langat dramatically kicked and widened the gap with the world champion.
Jamal, exhausted as she was, was overtaken by Lishchynska and her fellow Tobias, and lost her chance to win a medal.