World
Russian Kanaeva wins gymnastics rhythmic individual all-around Olympic gold
Source: Xinhua | 08-23-2008 22:24
Special Report: 2008 Beijing Olympic Games

BEIJING, Aug. 23 (Xinhua) -- Evgeniya Kanaeva highlighted Russia's dominance in rhythmic gymnastics by taking the individual all-around gold medal at the Beijing Olympics by an impressive 3.575-point margin on Saturday.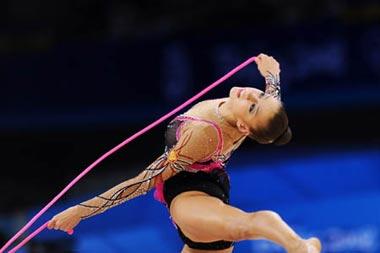 Evgeniya Kanaeva of Russia competes during the individual all-round final at the Beijing 2008 Olympic Games rhythmic gymnastics
event in Beijing, China, Aug. 23, 2008. Evgeniya Kanaeva won the
gold medal of the event. (Xinhua/Cheng Min)
The gold medal was the 18-year-old's first Olympic title, and the third Olympic rhythmic individual gold for powerhouse Russia in a row.
The retirement of Athens all-around gold and silver medallist from Russia, Alina Kavaeva and Irina Tchachina, opened the way for their compatriots Kanaeva and Olga Kapranova, and for 2004 bronze medallist Anna Bessonova of Ukraine.
Saturday's rhythmic individual all-around final saw a rivalry among the three and a newcomer, Inna Zhukova from Belarus.
But Kanaeva stood out just too easily, leading all the way through all the four routines of rope, hoop, clubs and ribbon.
The difficulty value of all her four routines exceeded the 9.0 barrier, and she matched her high difficulty with high-standard execution, mesmerizing fans with dazzling swings, circles, tosses, catches and spirals, among other daredevil tricks.
The 2008 European all-around champion who ranked first in qualifications, claimed the title with the highest scores in all her four routines, and a winning combination of 75.500 points.
"I am so happy for myself, for my coach and viewers in the stadium," she said. "I did my best in the competition. I only wanted to follow what my coach told me to do."
She said she was so focused on her performance and did not even notice she was first or not. "I only realized I won the gold medal when I saw the mark on the screen."
Inna Zhukova, fourth in qualifications, performed consistently on the four routines and finished second with 71.925.
"It's a pity for me not to get the gold medal, but I'm not too sad to get the silver medal," she said.
"In recent years I have attended a lot of competitions and the best result for me has been fourth place. It's beyond my expectation to get the silver medal," said Zhukova.