World
Tia Hellebaut wins Belgium first gold medal in Beijing Olympics
Source: Xinhua | 08-23-2008 22:12
Special Report: 2008 Beijing Olympic Games

BEIJING, Aug. 23 (Xinhua) -- With only one day left, Belgium finally got on to the Beijing Olympic gold medals table when Tia Hellebaut won a women's high jump title here on Saturday.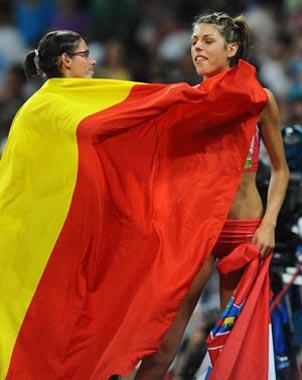 Tia Hellebaut (L) of Belgium celebrates with Blanka
Vlasic of Croatia after the women's high jump final
at the National Stadium, also known as the Bird's
Nest, during Beijing 2008 Olympic Games in Beijing,
China, Aug. 23, 2008. Tia Hellebaut won the title
with 2.05 metres. Blanka Vlasic took the silver.
(Xinhua Photo)
The 30-year-old Hellebaut, the world indoor pentathlon champion, cleared 2.05 meters on her first attempt to claim the gold medal
Croatian Blanka Vlasic had to settle for the silver as she failed the first attempt on 2.05. The world champion, who had the eight best marks of the season and was a big favorite coming into the Olympics, didn't miss at any heights until her first go at 2.05 meters, which she cleared on her second attempt.
The bronze medal went to Russian Anna Chicherova with 2.03 meters.
Another Russian Elena Slesarenko, the 2004 Athens gold medalist and two-time world indoors champion, was fourth at 2.01.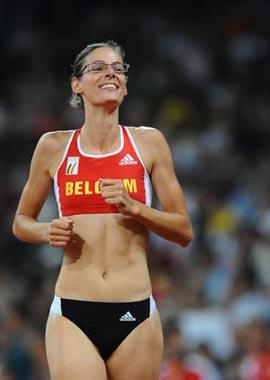 Tia Hellebaut of Belgium celebrates after the
women's high jump final at the National Stadium,
also known as the Bird's Nest, during Beijing
2008 Olympic Games in Beijing, China, Aug. 23,
2008. Tia Hellebaut won the title with 2.05
metres. (Xinhua Photo)
Editor:Xiong Qu