World
Norway´s Thorkildsen wins men´s javelin throw gold
Source: Xinhua | 08-23-2008 21:47
Special Report: 2008 Beijing Olympic Games

BEIJING, Aug. 23 (Xinhua) -- Norway's Andreas Thorkildsen won the men's javelin throw gold medal at the Beijing Olympic Games here on Saturday.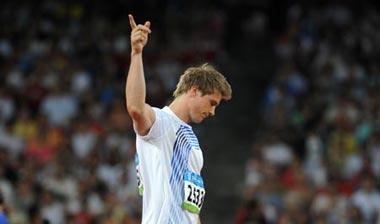 Andreas Thorkildsen of Norway getures during the men's javelin
throw final at the National Stadium, also known as the Bird's Nest,
during Beijing 2008 Olympic Games in Beijing, China, Aug. 23, 2008.
Andreas Thorkildsen won the title.(Xinhua Photo)
The Athens Games champion defended his title with a throw of 90.57 meters, and broke the Olympic record. Latovia's Ainars Kovals took the silver with 86.64 meters and Finland's Tero Pitkamaki won the bronze with 86.16.
The 26-year-old veteran had taken the lead since the first attempt, and his domination had never been threatened throughout the race. He threw an amazing 90.57 meters in his fifth trials. With an effort enough to break the Olympic record, he dropped his last chance and clinched the gold.
Kovals surprised everyone with 86.64 in his last chance to edge Pitkamaki, the 2007 world champion, for the silver medal.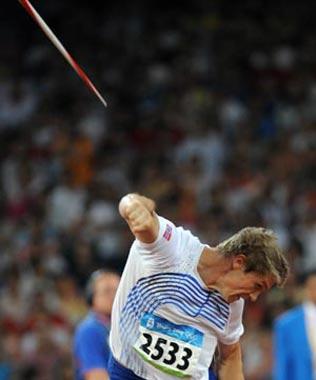 Andreas Thorkildsen of Norway competes during the men's
javelin throw final at the National Stadium, also known
as the Bird's Nest, during Beijing 2008 Olympic Games
in Beijing, China, Aug. 23, 2008. Andreas Thorkildsen
won the title with 90.57 metres and set a new Olympic
record.(Xinhua Photo)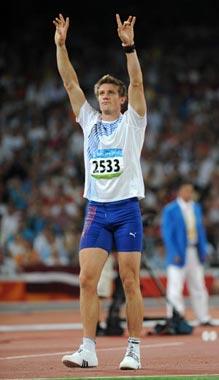 Andreas Thorkildsen of Norway gestures
during the men's javelin throw final
at the National Stadium, also known
as the Bird's Nest, during Beijing 2008
Olympic Games in Beijing, China, Aug.
23, 2008. Andreas Thorkildsen won the
title and set a new Olympic record.
(Xinhua Photo)
Editor:Chen Ge