World
Usain Bolt: Jamaican star
Source: CCTV.com | 08-21-2008 19:45
Special Report: 2008 Beijing Olympic Games

The 21-year-old Jamaican Usain Bolt has become the brightest star of the "Bird's Nest". He's set the world and Olympic records in both the 100 meters and 200 meters, with times of 9.69 seconds and 19.30 seconds. His name and achievements have earned him the nickname "Lightning Bolt."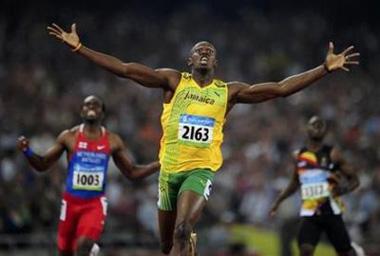 Usain Bolt of Jamaica celebrates winning the men's 200m final of
the athletics competition in the National Stadium at the Beijing
2008 Olympic Games August 20, 2008.(Dylan Martinez/Reuters)
Recap:
Bolt wins Olympic 200m with world record, runner-up disqualified later
Jamaica´s Bolt breaks world record to win men´s 100m Olympic gold
In the Beijing Olympic track and field events, the crowd has not only been impressed by his lightning speed, but also his dances. Like other young people, Bolt likes living in a easy and leisurely way.
Bolt made his first impact on the world stage at the 2002 World Junior Championships, winning gold in the 200 meters. This made him the youngest gold medalist in the history of the competition.
However, injuries caused him to miss much of the 2004 and 2005 track and field seasons. Bolt improved in the 2007 season. He won silver at the 2007 Osaka World Championships, second to track rival Tyson Gay.
Photo Albums:
Growth of an athletic star: Bolt
Bolt hits Beijing again in historic run