World
China´s He Chong wins men´s 3m springboard diving gold medal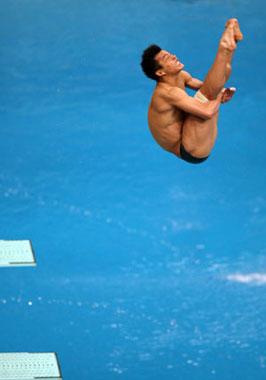 He Chong of China performs a dive during the
Men's 3m Springboard Final of Beijing 2008
Olympic Games diving event in Beijing, China,
Aug. 19, 2008. He Chong claimed gold of the
event with a total score of 572.90 points.
(Xinhua/Liu Yu)
Despatie, also silver medallist in 2007 Melbourne Worlds, has had a difficult year. He fractured his fifth metatarsal of the right foot during a training session in April this year and this hampered his training schedule toward the Beijing 2008 Olympic Games.
Russian "diving czar" Dmitry Sautin, who just claimed a silver in the synchro springboard, finished fourth in 512.65.
Beijing Olympic Games is the fifth Olympic Games Sautin participated, and also his last. The Russian diving icon make an almost perfect dive in the last round as his last dive in Olympics, which scored 99.75, the highest in his six dives and also the second in the round.
Mexico's Yahel Castillo, who is the only diver who can perform 5355B, a reverse two-and -a -half somersault and two-and-a-half twist in pike position, which difficulty degree is 3.9, only managed to take the seventh in 462.10.
China expects to make a clean sweep in the Water Cube at home soil. They swept all eight golds in the last meet of the FINA Diving Grand Prix in Rome earlier in July.
From the Beijing Games, they have taken the first six gold medals.
China has undisputed domination in diving. The Chinese diving team claimed five golds at 2000 Sydeny Olympics and further took a record six at 2004 Athens Olympics, contributing more Olympic golds for China than any other Chinese teams.

Editor:Si Qintu