World
Chinese Lu Chunlong wins men´s trampoline Olympic gold
Source: Xinhua | 08-19-2008 21:21
Special Report: 2008 Beijing Olympic Games

BEIJING, Aug. 19 (Xinhua) -- Chinese Lu Chunlong won the men's trampoline gold medal at the Beijing Olympic Games here on Tuesday.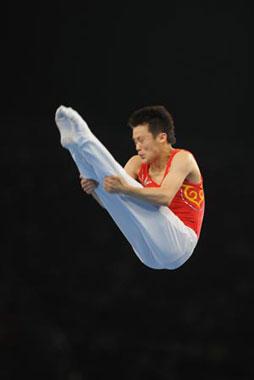 China's Lu Chunlong competes during trampoline
men's final of Beijing 2008 Olympic Games at
National Indoor Stadium in Beijing, China, Aug.
19, 2008. Lu claimed the title of the event with
a score of 41.00. (Xinhua Photo)
Lu scored the winning 41.00 points, while Canadian Jason Burnett had the silver in 40.70 and Dong Dong of China got the bronze in 40.60.
Editor:Si Qintu