China
Record for births, marriages on Olympic opening day
Source: China Daily | 08-09-2008 14:37
Special Report: 2008 Beijing Olympic Games

BEIJING, Aug. 9 -- The first Olympic baby, a 2.95-kg girl, was delivered at 00:01 Friday morning at Peking University First Hospital in Beijing's Haidian district.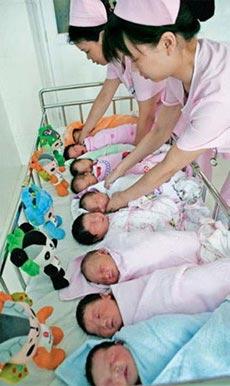 Nurses attend to newborns in the No 1
People's Hospital in Xiangfan, Hubei
province, August 8 2008. (Photo:
China Daily)
Shi Yanmin gave birth to a baby girl at 10:48 a.m. on the opening day of the 2008 Beijing Olympic Games.
Shi's husband Wu Hongbin said he and his wife would name the baby Ao Yun, or "Olympic Games."
"I wanted to give birth on Aug 8 because it's a historic day," said a 38-year-old woman, surnamed Xie, at the Hunan Provincial Maternal and Children Health Hospital.
Another mother, Xie, was one of several women who underwent births by Caesarean section Friday, said a head nurse surnamed Li at the hospital, Xinhua reported Friday.
At least 200 babies were born Friday in Nanjing, capital of Jiangsu province, the China News Service reported.
Hospitals in Guangzhou, capital of South China's Guangdong province, brought in more than 100 extra beds in the past two days in anticipation of Olympic births, news.sohu.com reported.
Friday also set a world record for marriage registrations on a single day. In Beijjng alone, 14,591 couples had collected their marriage certificates by 3:00 p.m.
As Chinese people regard the number eight as auspicious, Aug 8, 2008, is a popular day to tie the knot, especially this year, when it marks the start of the Beijing Olympics.
The Chaoyang district civil affairs bureau had worked the last three weekends in preparation for the 2,500 couples - fivefold the figure on Aug 8 last year - registering their marriages at the bureau.
Many officials and staff stayed up all Thursday night in their efforts to ensure everything went smoothly.
"We have streamlined the procedure for issuing today's certificates as well as on-the-site registration," He Tieqing, spokesman for the bureau, said.
"We are so excited to be officially married," said 30-year-old Beijinger Zhang Ying, flourishing her certificate outside the Chaoyang district civil affairs bureau.
"The date 08-08 means double happiness for us - the opening ceremony of the Beijing Olympics and our marriage registration," said Zhang, hand-in-hand with her husband Zhang Jingchuan.
"I am really impressed by the long lines of couples waiting to get their marriage certificates on this special day," Oliver Chouchana, a photojournalist at the French fashion magazine Marie Claire, told China Daily.
About 6,000 couples in Shanghai, 15 times more than normal, were estimated to have registered their marriage certificates Friday.
"The opportunity to be host country of the Olympics is precious. We are thrilled to be starting our married life on a day that will be remembered forever," Chen Yanzhang, 29, at the Luwan District Marriage Registration Center, said.
Chen, who works for an IT company, and his 25-year-old wife, Zhang Xiaoming, a graduate student, booked their registration online three weeks in advance Both took a day's leave for the occasion.
Three couples exchanged vows at midday on Aug 8 at the Luwan Marriage Registration Center.
"All were almost weeping with emotion," said Jiang Yingying, the marriage registrar.
Editor:Wang Shuqin