China
Typhoon Fung Wong makes landfall in Fujian
Source: CCTV.com | 07-29-2008 13:50
Typhoon Fung Wong has swept into east China's Fujian Province. It's the eighth tropical storm to hit the country's coast this year. The eye of the powerful typhoon made landfall in Fuqing City at 10 PM on Monday packing winds of up to 120 kilometers per hour. The typhoon then weakened to a strong tropical storm.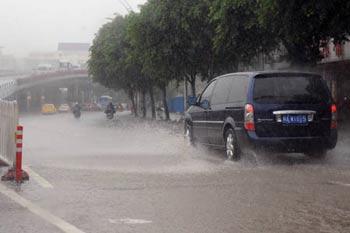 Vehicles splash through a flooded street in Fuzhou City,
capital of southeast China's Fujian Province, July 28, 2008.
Typhoon Fung Wong, which was lashing Taiwan on Monday morning,
continued to strengthen as it headed toward the southeastern
coast of mainland China, according to the observatory of Fujian
Province. (Xinhua/Jiang Kehong)
Fung Wong had already brought heavy rainstorms to the province before it made landfall in Fuqing. Some cities have received over 200 millimeters of precipitation.
Hundreds of thousands of people in the province have been evacuated and fishing boats are being advised to return to ports. Disaster relief personnel were sent to help those on fishing vessels reach safety.
The provincial educational department has also ordered school classes halted during the storm period.
The power was cut off in many cities and counties as electricity transmission lines were damaged.
Flights and ships were also delayed or canceled.
Fung Wong is believed to be the heaviest storm this year. And it is likely to bring more heavy rains and strong winds to neighboring provinces in the coming days, as it passes through the area and heads north.