China
Olympic flame kicks off tour in Shijiazhuang
Source: CCTV.com | 07-29-2008 09:18
Special Report: 2008 Beijing Olympic Games

Tuesday marks the 10-day countdown to the 2008 Beijing Summer Olympic Games. And right now, the Olympic flame is on route to Shijiazhuang, capital city of Hebei province.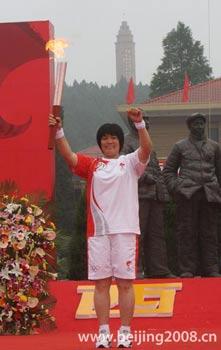 Olympic flame is carried through in
Shijiazhuang, Hebei province.
The relay in the city was decided into two parts. The starting point was set at Xibaipo, the Chinese Communist Party's headquarters before it moved to Beijing. Earlier this morning, Li Meisu, a Hebei native as well as the first Chinese Olympic medal winner in shot put, served as the first runner.
After 1.5 kilometers relay in the county, the torch then moved to the downtown of Shijiazhuang and will finish the rest of relay.
Editor:Xiong Qu