China
China, Qatar pledge further cooperation
Source: CCTV.com | 06-24-2008 19:01
Vice President Xi Jinping has started an official visit to Qatar. He met with the country's top officials in Doha on Tuesday. They reiterated their commitment to the relationship and agreed on further cooperation.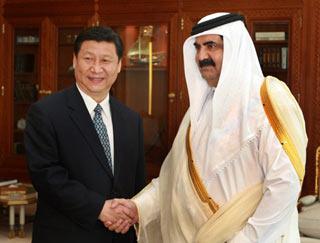 Chinese Vice President Xi Jinping (L) meets with Qatari
head of state Emir Sheikh Hamad Bin Khalifa Al-Thani in
Doha, Qatar, June 23, 2008. Xi arrived at Doha on Monday
for an official visit to Qatar.(Xinhua Photo)
China is ready to take ties with Qatar to a new level.
In a statement released upon his arrival, Xi Jinping says China attaches great importance to its ties with Qatar. He notes their sincere and friendly cooperation in the fields of politics, economy and culture in 20 years of diplomatic ties.
Xi Jinping told Qatari head of state Emir Sheikh Hamad Bin Khalifa Al-Thani China will maintain high-level contacts and dialogue on major regional and international issues, and further expand cooperation.
The Emir said Qatar is glad to see China's developments. He said China's stability and development are of crucial significance for Asia and the world as well. The Emir said Qatar is ready to make positive contributions to promote the cooperation between the Gulf Cooperation Council and China. He also wished the Beijing Olympic Games success.
When meeting with the Crown Prince Tamim bin Hamad bin Khalifa al-Thani Sino-Qatari, Xi Jinping said friendly cooperation faces unprecedented opportunities. He suggested cementing high-level exchanges and communications to better coordinate cooperation. The vice president said cooperation in trade, energy and other fields, as well as mutual investment, should be strengthened. He also called for strengthening cooperation in the field of infrastructure construction.
Crown Prince Tamim said his country hopes to deepen cooperation with China in those fields. He said Qatar welcomes Chinese investors.
China and Qatar agreed to establish a joint investment promotion commission, and a Beijing-Doha friendly city agreement.
Xi Jinping also met Abdul Rahman al-Attiya, Secretary General of Cooperation Council for the Arab States of the Gulf. Xi said China is ready to maintain contact and consultation with the GCC on regional issues so as to continue to play a constructive role in maintaining peace and stability in the Middle East and Gulf region.
Al-Attiya said the GCC and its members appreciate the just and impartial stance that China holds on the Middle East issues. He also expressed the wish to strengthen dialogue and cooperation with China.
Editor:Xiong Qu