China
Olympic torch relay in Lhasa
Source: CCTV.com | 06-21-2008 13:29
The torch relay for the 2008 Beijing Olympic Games has run across Lhasa, the capital of the Tibet Autonomous Region.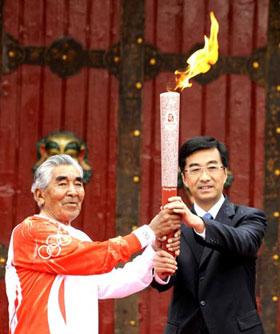 Gonpo (L), 75-year-old Tibetan mountaineering hero
and the first torchbearer, receives the torch from
Qin Yizhi, secretary of the Lhasa city committee of
the Communist Party of China, during the 2008
Beijing Olympic Games torch relay in Lhasa, capital
of southwest China's Tibet Autonomous Region, on
June 21, 2008. (Xinhua Photo)
The relay in Lhasa began at 9 am on Saturday morning at the square in front of the city's famous garden, the Norbu Lingka.
A minute of silence was observed to remember the victims of the Wenchuan earthquake a month ago. Local authorities say the arrival of the flame is a great boost to the solidarity of the different ethnic groups in the autonomous region.
Qin Yizhi, vice chairman of Tibet Autonomous Region, said, "The passage of the flame across Lhasa will further enhance the patriotism of all ethnic groups and stimulate their enthusiasm to make greater contribution to the social progress in Tibet. Let's stick to the Olympic spirit of peace, friendship and progress and hold high the Olympic torch symbolizing harmony and glory. Wish all the best to our country, and a great success to the Beijing Olympic Games."
The cloudy day cast no shadows over local enthusiasm. The torch was lit and passed over to local leaders, amid cheers and thunderous applause.
The first torch bearer was 72-year-old Gongbo, a noted Tibetan mountaineer. This run featured 156 torchbearers, 75 of them Tibetan. The route covered 9.3 kilometers and ended at Potala Square.
During the two-hour relay, the flame kindled on the top of Mount Qomolangma on May 8th reunited with the main torch.
The next destination for the Olympic torch relay is Qinghai Province.
Editor:Liu Fang