China
New round of rainstorms worsen flood in S. China
Source: CCTV.com | 06-17-2008 09:14
In southern China a new round of rain storms have been battering the area since Sunday. The bad weather is worsening floods caused by continuous rainfall over the past 20 days.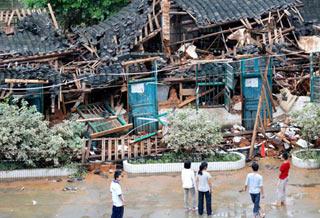 Photo taken on June 15, 2008 shows the flood-damaged student
dormitories of Chengdong Middle School in Zhaoping County,
southwest China's Guangxi Zhuang Autonomous Region. Some 15
dormitories of the school were destroyed by flood on June 14.
(Xinhua Photo)
At least 200 people have died or are missing and 38 million people have been affected by the rainstorms. Over 120,000 houses have collapsed.
Continuous heavy rains have swelled many rivers, including the Yangtze, Zhujiang, Xijiang and Minjiang, above danger levels.
Now the highest flood crest in 20 years is moving downstream along the Xijiang River in Guangdong province.
The state flood prevention center is warning local governments to prepare for floods.
Zhang Xu, State Flood & Drought Command Center said "The weather is abnormal now and extreme weather conditions are occurring very frequently. The flood season will be relatively long and our next task is to prepare for it well."
Meteorologists say southern China will experience at least two major rainstorms in the next five days. The region is on the alert for landslides and mudflows in mountain areas. Cities are preparing for possible floods and reservoirs are being monitored.