China
Japanese medical team leaves China´s quake zone for home
Source: Xinhua | 06-03-2008 09:12
Special Report: Strong quake jolts SW China

Special Report: The most lovely int'l friends

BEIJING, June 2 (Xinhua) -- A 23-member Japanese medical team wrapped up a two-week rescue and relief operation in quake-hit southwest China's Sichuan Province and returned to Japan on Monday.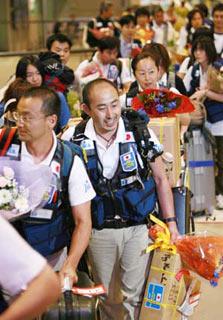 Members of Japanese medical team arrive
at the Narita airport in Chiba Prefecture,
Japan, June 2, 2008. (Xinhua Photo)
The team arrived in Chengdu on May 20 and split into four groups helping the Chinese medical staff in emergency, orthopaedics, intensive care and hemodialysis departments of Huaxi hospital.
The medical team treated 1,355 patients. Before leaving for home, they also donated some of their medical equipment to local hospitals.
The Japanese medical team comprised four doctors, seven nurses, seven pharmacists and five coordinators.