China
German medical team sets up community hospital in China´s quake-hit area
Source: Xinhua | 05-27-2008 09:26
Special Report: Strong quake jolts SW China

Special Report: The most lovely int'l friends

DUJIANGYAN, May 26 (Xinhua) -- A German medical team set up a mobile community hospital on Monday in China's quake-hit Sichuan Province.
Located at an engineering factory gate in Dujiangyan City's economic development zone, the hospital received the first group of 123 injured persons on Monday morning.
<!a href=# target=_blank>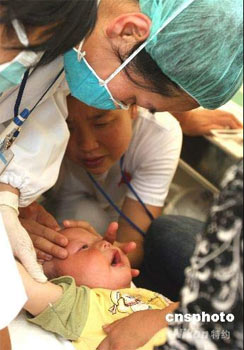 <!a href=# target=_blank>Sino-Germany field hospital begins operation
Consisting of 25 tents, the hospital offers 120 therapy beds, and includes an operation room, delivery room, emergency treatment room, radiation room, laboratory and pharmacy.
The hospital comprises internal, surgical, paediatric and gynecological departments.
The massive earthquake that devastated the province on May 12 had turned the city's three comprehensive hospitals into ramshackle buildings. The only tent clinic, built in the square of Dujiangyan People's Hospital, could not accommodate so many injured.
Germany sent 15 experienced technicians and medical experts to Dujiangyan on May 23, together with 50 tons of medical materials.
<!a href=# target=_blank>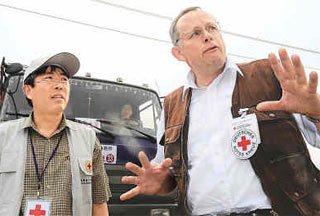 <!a href=# target=_blank>Chinese and German technicians set up mobile hospital in quake-hit Dujiangyan
The arrival of the German medical team had alleviated the great pressure on local medical staff, said Gao Bangzhong, head of Dujiangyan People's Hospital. He added the German colleagues, with consummate medical skill, had made arduous efforts to treat the wounded.
Germany planned to hand over the 1.5 million euro (2.36 million U.S. dollars) mobile hospital to the local government after the medical team had finished its task.
Editor:Zhang Ning