China
Backgrounder: Tangjiashan lake
Source: CCTV.com | 05-26-2008 19:30
Special Report: Strong quake jolts SW China

Tangjiashan is just one of dozens of barrier lakes formed by the earthquake, and is now threatening many parts of the region. Only seven of them have been made safe.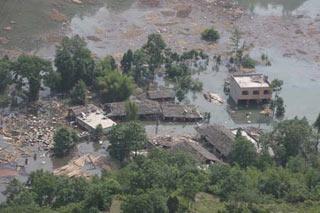 Photo taken on May 22, 2008 shows an airscape of a village
submerged by the lakes formed after the massive May 12
earthquake in Xuanping Village, Beichuan County, southwest
China's Sichuan Province.(Xinhua Photo)
The 8.0-magnitude earthquake on May 12th, aftershocks and landslides created 35 barrier lakes, with 34 in Sichuan. They're are posing new dangers to hundreds of thousands of the people who survived the deadly quake.
The biggest concern is Tangjiashan lake, the largest of the barrier lakes in Sichuan. Its water level rose by nearly 2 meters on Saturday to 723 meters. That's just 29 meters below the lowest part of the barrier.
Barrier lakes were caused by landslides that blocked rivers and reservoirs.
Several days of rain has caused the lakes to swell more rapidly. And the more water they contain, the greater the destruction they will cause if they burst, especially those in the lower reaches of the rivers.
Steps are taken to tackle the problems, such as completely draining the collapse-prone reservoirs, lowering water levels at others and putting all the damaged reservoirs under 24-hour observation. Tens of thousands of residents have been evacuated.
Rescuers are scrambling to fix the most dangerous of these reservoirs before July, when the rainy season is expected to start in the quake regions.
Editor:Xiong Qu