China
Premier encourages surviving students in quake disaster zone
Source: Xinhua | 05-24-2008 11:13
Special Report: Happy Children's Day

Special Report: Strong quake jolts SW China

MIANYANG, Sichuan, 23 (Xinhua) -- Premier Wen Jiabao continued his second trip around the quake disaster zone on Friday, visiting surviving students in Mianyang, one of the worst-hit cities in the May 12 quake.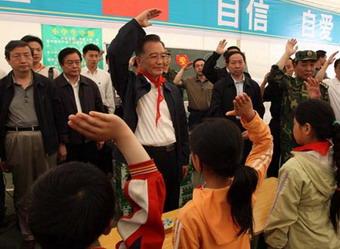 Chinese Premier Wen Jiabao (C) salutes with the students
to pay tribute to the quake victims during his visit to
the makeshift tent school at Jiuzhou Stadium in Mianyang
City, southwest China's Sichuan Province, May 23, 2008.
Wen Jiabao went to the temporary schoolhouse of Beichuan
Middle School and the makeshift tent school established
at Jiuzhou Stadium in Mianyang on Friday to visit teachers
and students who survived the May 12 earthquake.(Xinhua Photo)
In a tent school, where more than 500 students from the destroyed Beichuan Middle School were studying, Wen encouraged them to study harder following the calamity.
"Let us not forget the earthquake," he told the students in a tender voice. "Then you will know what life is all about -- it is bumpy, as the roads are."
"Today, people save us and take good care of us. In the future, we will help them in return," the premier added.
"Trials and tribulations serve only to revitalize the nation," he wrote on the blackboard to encourage them.
The students, many of whose 1,300 schoolmates and teachers were killed or missing, resumed classes on Monday.
Wen also visited tent schools near the Jiuzhou Indoor Stadium in downtown Mianyang. There, he put on a red scarf and joined primary school students to salute the quake dead.
During his visit on Friday, the premier underlined that providing shelters for the quake victims and preventing infectious diseases and secondary disasters are the priorities of the current relief work.
His first trip to the region was just hours after the mid-afternoon earthquake jolted Sichuan.
Editor:Du Xiaodan