World
ICJ awards Pedra Branca´s sovereignty to Singapore
Source: CCTV.com | 05-24-2008 10:27
The International Court of Justice in the Hague has ruled Singapore has sovereignty over the largest of three disputed islands claimed by Malaysia.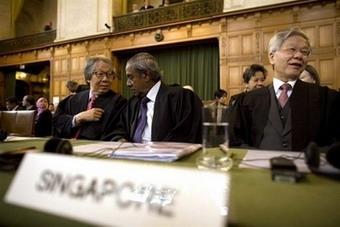 Lawyers representing Singapore at the International Court
of Justice in The Hague. Malaysia on Friday bowed to a
ruling by the International Court of Justice that affirmed
Singapore's sovereignty over a tiny but strategic island
that caused a 28-year dispute between the neighbours.
(AFP/ANP/Rob Keeris)
It has awarded Malaysia sovereignty over a smaller one. Many believe the case will encourage other countries to resolve long standing territorial disputes through the ICJ.
The outcrop called Pedra Branca by Singapore and Pulau Batu Puteh by Malaysia, is no larger than a football field. It's located near the Malacca Straits which carries 40% of the world's trade.
The ICJ has ruled Malaysia has sovereignty over another nearby island known as Middle Rocks. Sovereignty over a third disputed cluster of rocks called South Ledge was left to be determined later after the countries sort out their territorial waters.
Malaysia and Singapore have a history of squabbling over a range of issues since Singapore gained sovereignty from Malaysia in 1965.
Editor:Du Xiaodan