China
Foreigners mourn quake victims
Source: CCTV.com | 05-20-2008 11:49
Special Report: Strong quake jolts SW China

Chinese embassies and diplomatic missions overseas have been receiving condolences from foreign leaders and officials, ordinary citizens, and the overseas Chinese community.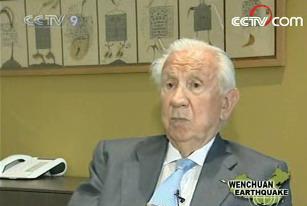 Former president of the International Olympic Committee,
Juan Antonio Samaranch also expressed sympathy and
solidarity with the Chinese people.
French President Nicolas Sarkozy paid a visit to the Chinese Embassy in France on Monday afternoon. Senior officials from the congress and foreign ministry were also present. Sarkozy mourned earthquake victims at the condolence hall, and also left a message writing "we are together with the Chinese people who are suffering in this calamity".
Nicolas Sarkozy, French President said "On behalf of all the French people, I want to express our deep grief for the victims of the Sichuan earthquake, and support for the Chinese people. France is willing to dispatch expert teams to China and will continue to provide material aid. I know that China is a strong country. France will help China make it through this disaster, together."
Also on Monday, the Russian Vice Foreign Minister and members of the Russia-China Friendship Association paid homage to quake victims at the Chinese Embassy in Moscow.
Aleksei Borodavkin, Vice Foreign Ministry of Russia said "I represent the Russian Foreign Ministry in mourning those killed in the earthquake and expressing our profound condolences. Russia will continue to provide humanitarian aid to China, in the hope that the Chinese people will soon overcome the aftermath of the disaster."
Mikhail Titarenko, President of Sino-Russia Friendship Assistant said "The Russian people are in deep mourning for the earthquake victims. China is a strong nation which has experienced arduous times in the past. We firmly believe that China will overcome the disaster and resume normal life soon, after which China will be more united and prosperous."
In Canada, over 100 people including government officials, overseas Chinese, and students gathered at the Chinese Consular Office in Toronto to mourn victims of the deadly earthquake.
In Brazil, a number of foreign diplomatic officials, representatives from Chinese-funded companies, and people from all walks of life paid their condolences at the Chinese Embassy in Brasilia.
A Brazilian businessman said "We express our most sincere condolences to the earthquake victims. I believe that with the efforts of the Chinese government and the help from all over the world, Chinese people will soon step out from the shadow of the catastrophe."
At an exclusive interview with a CCTV reporter, former president of the International Olympic Committee, Juan Antonio Samaranch also expressed sympathy and solidarity with the Chinese people.
China's UN representative office in Vienna began a three-day mourning period for the earthquake victims on Monday. Ambassadors and representatives from Spain, Russia, Germany and Serbia took part in the memorial ceremony.
State leaders and officials from Vietnam, Laos, Nepal, Finland and South Korea have also paid their respects at the Chinese embassies in their countries.
Editor:Xiong Qu