China
Chinese President expresses gratitudes for foreign aid in quake relief
Source: Xinhua | 05-18-2008 10:26
Special Report: Strong quake jolts SW China

Special Report: The most lovely int'l friends

CHENGDU, May 18 (Xinhua) -- Chinese President Hu Jintao Saturday night expressed gratitude to foreign countries and people who have offered aid since a major earthquake struck the country.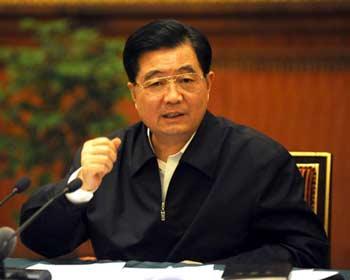 Chinese President Hu Jintao Saturday night speaks at a meeting
on rescue and relief work of the earthquake, expressing gratitudes
to foreign countries and people who have offered aid since a major
earthquake struck the country.(Xinhua Photo)
"On behalf of the Central Committee of the Communist Party of China (CPC), the State Council and the Central Military Commission, I express heartfelt thanks to the foreign governments and international friends that have contributed to our quake-relief work," Hu said.
Hu, also general secretary of the CPC Central Committee, made the remarks at a meeting on rescue and relief work after the 7.8-magnitude earthquake ravaged southwestern Sichuan Province Monday afternoon.
Hu also conveyed his greetings to the government officials and people in the disaster-hit areas, the People's Liberation Army (PLA), armed police, militia, reservists, public security staff, medical personnel, journalists and all people making "selfless devotions" to the quake-devastated areas.
More than 200 rescuers from Japan, Russia, the Republic of Korea (ROK) and Singapore are in Sichuan to help with the rescue and disaster relief work.
A 61-year-old woman was saved alive Saturday evening by Russian rescuers after being buried for up to 127 hours in the rubble, the first survivor found by foreign rescuers.
The earthquake, the worst in decades, had caused 28,881 deaths nationwide as of 2 p.m. Saturday. Many countries have offered help including making donations and sending rescue teams.
QUAKE RELIEF ATOP GOVERNMENT WORK AGENDA
In the meeting, Hu urged local governments at all levels and relevant central government departments to take quake relief as the most important and pressing issue in their work.
He called for unremitting efforts to search for and rescue the trapped people though more than five days had passed after the disaster.
"We should put people first and saving people's lives is still the top priority of the relief work," he said.
Troops, armed police, and public security personnel should reach villages and search every collapsed buildings to save the people, he said.
Hu also called for all-out efforts to save and cure injured survivors, urging to transfer them to hospitals with better conditions.
Hygiene measures in the quake-hit areas should be beefed up to prevent the spread of diseases, and more medical experts should be sent to these areas to help prevent and control possible epidemics, Hu said.
During the meeting, Hu expressed his concern for the people in the quake-devastated areas, calling for arrangements of supplies of daily necessities to meet people's demands.
Food, clothes, drinking water and temporary shelters must be ensured, he emphasized.
Hu also underscored social stability in quake hit areas, ordering officials to give considerate comfort and condolence to people to ensure a peaceful social environment.
"We must keep highly alert" against aftershocks and avoid further losses, he warned.
Hu also called for tightened monitoring and prevention measures on geological disasters such as landslides and mud-rock flows.
He said early planning is important for reconstruction as the country now faces a challenging task in this regard.
He also ordered early preparations and arrangements to deal with the issues of orphans, seniors and disabled.
The meeting was presided over by Vice Premier Hui Liangyu, who urged implementation of the overall quake-relief strategies of the central government.
Editor:Zhang Ning