China
Emotional premier moves Chinese amid quake effort
Source: Xinhua | 05-15-2008 13:49
Special Report: Strong quake jolts SW China

BEIJING, May 15 (Xinhua) -- Few things other than stories of victims rescued following China's most deadly earthquake in 32 years would touch the Chinese heart now. But the emotional Premier Wen Jiabao did.
Video: "Dear Premier Wen, you moved China"
At www.tudou.com, China's YouTube-like site, a video titled "Dear Premier Wen, you moved China" is attracting hundreds of views. It's a compilation of scenes of Wen's visit to southwestern Sichuan Province, which was devastated by the most deadly earthquake in China since 1976.
Wynlxl, the netizen producer of the video, wrote a caption: "Our dear Premier Wen, you had a long day."
About two hours after the 7.8-magnitude earthquake jolted Wenchuan County in northwestern Sichuan, Wen was en route to the region by plane.
Within about 48 hours, he had paid whirlwind visits to almost all the worst-hit cities and towns including Dujiangyan, Deyang, Mianzhu, Mianyang, Beichuan and Wenchuan.
On Wednesday afternoon, half a day after the first soldiers reached the epicenter town, Yingxiu, he landed there by helicopter.
GRANDPA WEN
There were many moving moments widely discussed by ordinary Chinese. One was Wen caressing the cheek of a weeping girl in a factory, murmuring to her: "Don't cry. Food will be sent in a short time. Biscuits and milk powder will be sent, too." It touched many hearts.
Audiences saw a tearful Wen on TV as well. The premier wept as he watched rescuers try to get two children out of the shattered remains of a primary school in Dujiangyan.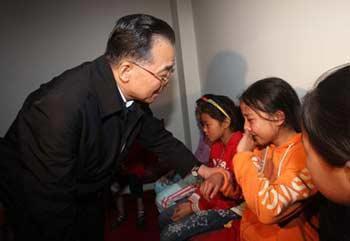 Chinese Premier Wen Jiabao comforts the children who lost
their relatives in the powerful earthquake in Mianyang on
May 13, 2008.(Xinhua Photo)
Standing in rain showers, he yelled to the children through a crack: "I am grandpa Wen Jiabao. You will certainly pull through and be rescued."
On late Monday evening after hours of travel and work, as drizzle fell, Wen walked over mud and debris at a local hospital and middle school where patients and students were trapped under collapsed buildings.
"If only there is the slightest hope, we will spare no effort; if only there is one survivor in the debris, we will not give up," he said over the debris of the school building that buried more than 100 students.
To the bodies of victims temporarily placed on the school yard, Wen bowed three times as he had done at the funeral of three technicians who died while repairing damaged electricity transmission lines in the winter disaster early this year.
"Your pain is our pain. We are here to help you," he told the victims of Beichuan County.
In Yingxiu County, where 70 to 80 percent of buildings were toppled, rescue work has just started.
"The Communist Party of China Central Committee has not forgotten this place. We will try every method to save the injured," said Wen, reaching out to the victims who were waiting to be airlifted to hospitals as soon as he flew into the town by helicopter on Wednesday afternoon.
On the CCTV website, people created a forum called "Premier Wen, We love you."
Omgomg, a netizen, wrote in a post: "Premier Wen Jiabao always appears where he is most needed at the right time, raises public morale and assures us with confidence. How could we not love him?"