World
World community aids Myanmar
Source: CCTV.com | 05-07-2008 09:08
Governments around the world are stepping forward to help cyclone ravaged Myanmar. Aid began to trickle into the country late on Tuesday. In the Irrawaddy delta, the worst hit area where nearly 22,000 people perished, the situation is critical.
Four days of heavy winds, floods and high tidal surges have cut off the densely-populated Irrawaddy delta from the rest of the world.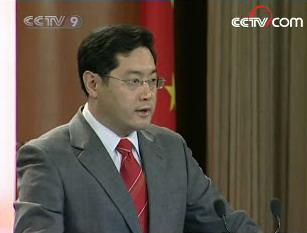 Chinese foreign ministry says one million US dollars
worth of aid will be provided for Myanmar.
With more than 40,000 still missing and as many as one million left homeless, the international community is struggling to get aid to those in need.
The U.N.'s World Food Programme is distributing aid in damaged areas of Yangon, where 800 tons of food had arrived.
But the WFP says the worst-hit coastal areas are out of reach for aid workers due to flooding and road damage.
The European Union has launched a primary fast-track decision to provide emergency relief for Myanmar amounting to two million euros.
In China, the foreign ministry says one million US dollars worth of aid will be provided.
Qin Gang, Chinese Foreign Ministry Spokesman said "China and Myanmar are friendly neighboring countries. In order to help the Myanmar people rebuild their home the Chinese government has decided to provide one million US dollars of emergency aid to the Myanmar government, including cash and materials."
At the US State Department, spokesman Sean McCormack says members of a disaster assistance response team were standing by. He says they could get to Myanmar "very quickly," once permission is given to enter the country.
India has already dispatched two naval ships to Yangon, carrying food, blankets, clothing and medicine.
Neighboring Thailand has delivered the first shipment of emergency supplies to Myanmar. The Thai government has approved an overall aid package of 100 thousand US dollars.
Editor:Xiong Qu