China
Sera Monastery reopens to tourists
Source: CCTV.com | 04-29-2008 08:31
Special Report: 3.14 Tibet Riots

One of the biggest monasteries in Lhasa, the Sera Monastery, has reopened to tourists. Visitors can again experience the religious and cultural atmosphere in the popular scenic spot. The number of visitors is expected to rise as the peak season approaches.
<!a href=# target=_blank>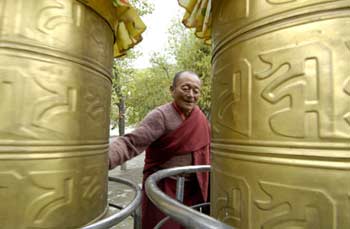 <!a href=# target=_blank>A lama turns the prayer wheels at the Sera Monastery in Lhasa, capital of southwest China's Tibet Autonomous Region, on April 28, 2008. The Sera Monastery, one of the leading monasteries in the region, was reopened to believers and tourists on Monday.
The religious site has always been a must-see for tourists to Lhasa. But for over a month, no visitors were allowed at Sera Monastery due to security reasons. The reopening has been long-awaited and today's visitors feel lucky they were there to see it.
Tourist Zhang Jian said, "I think this is a good start. Tibet not only has magnificent natural scenarios, but also splendid history. So it is a pity if people cannot visit monasteries to experience traditions. Sera Monastery is now open again, and I hope other major monasteries will soon resume tourism."
There are currently 500 monks at Sera Monastery. Religious practices have resumed as the site begins receiving visitors again.