China
Diplomatic mission ends fact-finding visit in Lhasa
Source: CCTV.com | 03-30-2008 11:26
Special Report: 3.14 Tibet Riots

A 15-member foreign diplomatic mission has wrapped up a fact-finding visit to Lhasa. Invited by the Chinese government, diplomats from dozens of countries including the US, the UK and Russia spent two days in the city, visiting places destroyed during riots two weeks ago. On the heels of a visit by overseas journalists, it is hoped this visit will help the world to better assess the situation in Lhasa. Wang Xin reports from Lhasa.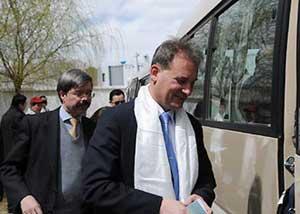 Foreign diplomats arrive in Lhasa, capital of southwest
China's Tibet Autonomous Region, March 28, 2008.
A 15-member diplomat delegation visited Lhasa on
Friday and Saturday after the March 14 riot. The
delegation went to the burnt shops, schools, visited
wounded police and other patients at local hospitals,
and talked with ordinary Tibetans whose lives have been
severely affected by the March 14 riot , as well as
some foreigners who live in Lhasa. (Xinhua Photo)
If anything could touch one's nerves, then this should be it. Five innocent girls burnt to death by rampaging rioters now form the most striking sight on the streets of Lhasa.
Two weeks after the violence, the ruins of this boutique still remind visitors of the scale of the damage.
Foo Teow Lee, Attcche of Singaporean Embassy, said, "If it is such violence, I feel that the Chinese government should take every means possible to protect the Lhasa residents. Singapore supports your measures."
Measures have been taken to protect the city and its residents from any more brutal attacks. Instigated by the Dalai Lama clique, the mobsters left the fast-growing city groaning with pain.
18 civilians killed, nearly 400 wounded, and a similar number of wounded police. Direct economic losses are in hundreds of millions of Yuan. Intangible losses are hard to tell.