China
Premier Wen: People´s well-being tops government´s work for coming years
Source: CCTV.com | 03-18-2008 15:02
Special Report: 2008 NPC & CPPCC sessions

Chinese Premier Wen Jiabao says controlling inflation, and ensuring the people's well-being are the government's top priorities for the coming years.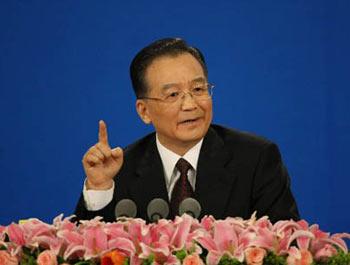 Chinese Premier Wen Jiabao answers questions on a press
conference after the closing ceremony of the First Session
of the 11th National People's Congress (NPC) at the Great
Hall of the People in Beijing, capital of China, March 18,
2008.The annual NPC session closed on Tuesday.(Xinhua Photo)
The re-appointed Premier has outlined the objectives and policies of his new government focusing on issues ranging from the economy to foreign policy, the situation in Tibet and the Beijing Olympics.
Wen Jiabao has been at the forefront of China's economic development. And the four new vice-premiers will be right beside him as he tackles the latest challenges.
The 65-year old Premier stresses the government's determination to stabilize the economy, while solving issues concerning the welfare of the country's citizens.
Wen Jiabao said, "We are now faced with two kinds of difficulties. On the one hand, the excessive rise of prices; and on the other hand, we are under mounting inflation pressure. We are also facing the potential risk of drastic economic fluctuation. That's why we need to blaze a trail in between."
Wen Jiabao says China's economy in 2008 will maintain a stable momentum despite uncertainties ahead. He explained government measures to regulate macro-economic growth and contain rising consume price index. The government has set the CPI growth rate this year within 4.8 percent..and Wen Jiabao acknowledges it will be difficult to achieve this target.
One major concern is raising grain output and the income of farmers. And China also faces the challenges of reducing energy consumption and greenhouse gas emissions.
China's international profile has steadily risen, as exemplified by Beijing's hosting of the Olympic Games in August.
Wen Jiabao said, "China is still a developing country. It's inevitable that we will encounter problems in one way or another during the process of our preparation. But the Chinese people are most sincere in their wishes to hold a successful Olympic Games."
Wen Jiabao has shown himself sympathetic to people's concerns over housing, employment, medical care and education.
But he and his government must find ways to rein in an overheating economy and high inflation. Power supply disruptions and crop damage caused by winter snowstorms are adding complications to the implementation of the government's policies.
Other thorny issues include the Taiwan Independence forces, the Tibet separatist movements, political reform and social justice.
With a second term, Wen Jiabao has emerged in a solid position to steer development. Yet he's facing the biggest economic challenges in a decade. The premier is seen by many as a modest, practical person who gets things done through consensus. Now he has five more years to show the people their faith in him is well placed.
Editor:Zhang Ning