China
SFDA vows to ensure food & drug safety and clean Olympic without doping
Source: CCTV.com | 03-16-2008 18:51
Special Report: 2008 NPC & CPPCC sessions

Special Report: 2008 Beijing Olympic Games

China's State Food and Drug Administration vows to adopt measures to ensure food and drug safety, and a clean Olymic without doping during Beijing 2008 Games.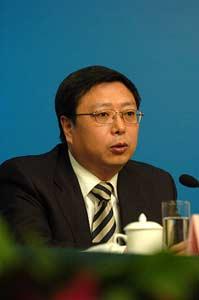 Sun Xianze, Section Chief of State
Food & Drug Administration
(Photo: xinhuanet.com)
An official from China's food and drug watchdog says the administration will adopt the highest international standard to ensure the quality of the food supply during the Beijing Olympic Game. He says multiple measures have already been put in place to ensure food safety.
Sun Xianze, Section Chief of State Food & Drug Administration said "We have already started in advance the monitoring of Olympic food suppliers in terms of production environment, safety, antibiotics and hormone residue in animality food. Meanwhile, we have set up food safety supervisory and tracking systems, as well as strengthened our emergency response and information disclosure mechanisms."
SFDA officials say the establishment of a medicine reserve has basically been completed to meet the demand during the Olympic Games. The food and drug watchdog will continue strengthening its supervision over sport doping in production, circulation and retail sectors, to ensure a clean playing field.
Earlier on Saturday, the ongoing National People's Congress approved a government reshuffle plan, which puts the SFDA under the jurisdiction of the Ministry of Health to streamline their supervisory functions.
The plan for the establishment of a "mega Ministry of Health" is aimed at improved monitoring of the country's food and drug safety measures. Experts say the reform should explicitly define the Ministry's policy-making and coordination mechanisms and strengthen its supervisory and accountable responsibilities.
Editor:Xiong Qu