China
Homes in China more expensive
Source: CCTV.com | 03-15-2008 14:38
Special Report: 2008 NPC & CPPCC sessions

Housing prices in urban centers like Beijing have been rising steadily in recent years. And that has been making it increasingly difficult for many residents to afford a home.
27-year old Liu Ting will move into a new home in a residential community in southern Beijing. He bought the two-bedroom apartment early last year with financial support from his parents. He says owning a home gives a real feeling of independence. He also enjoys decorating the apartment to suit his own tastes. But the joy didn't come cheaply.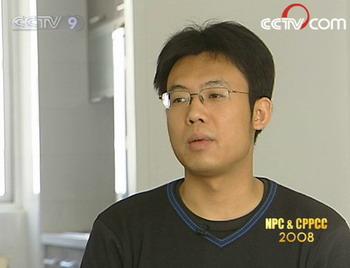 Liu Ting
Liu Ting said, "I borrowed 300, 000 yuan from my parents to settle the down payment of the apartment. I also borrowed 700,000 yuan from the bank. The repayment period covers 30 years."
Thirty years is the longest period of repayment available to home buyers in China for residential housing mortgages.
Liu Ting has to repay more than 4,000 yuan in monthly instalments. That's over 60 percent of the income he and his girlfriend earn a month. Both work in government institutions and don't have much savings. Though it's a heavy economic burden to shoulder, Liu Ting still believes it's more cost-efficient to buy a home rather than renting one.
Liu Ting said, "I had considered renting an apartment before. But considering that the housing prices in Beijing may continue rising, I eventually made up my mind to buy a home as soon as I could."