China
Big success since reform and opening up
Source: CCTV.com | 03-14-2008 19:02
Special Report: 2008 NPC & CPPCC sessions

Top political advisors have spoken highly of the achievements China has made over the past thirty years.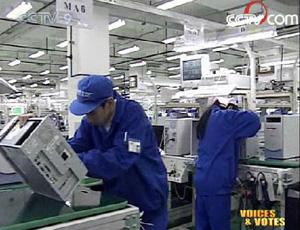 Top political advisors have spoken highly of the
achievements China has made over the past thirty
years. (CCTV.com)
And they are offering suggestions on how to channel the reform and opening up policy towards greater success in going forward.
In thirty years, China has turned itself into an economic power on the world stage.
Many CPPCC members have contributed to such economic success in the implementation of the reform and opening up policy which began three decades ago.
Zhang Yunling, CPPCC Member, said, "By reform, we changed from a planned economy to a market economy to let market play a key role for economic development. By opening up, first we receive FDIs, use the outside market to develop export industry through inviting more FDIs, we've got capital, through export, we got market."
And CPPCC member Steven Chan has some special feelings about this opening up policy. He is the Chairman of Coca Cola's China operation. The US beverage giant sold its first bottle of coke on the mainland nearly 30 years ago. Today the mainland has become Coca Cola's fourth largest market worldwide.
Steven Chan, CPPCC Member, said, "The last 30 years have been rewarding, fascinating and exciting for us, despite the difficulties we've encountered. Our greatest achievement is turning Coca Cola into a widely accepted quality product in eyes of Chinese consumers."
The emergence of many private enterprises is also seen as a significant achievement.
The private sector has grown from almost nothing thirty years ago, to become a pillar of the country's economy, contributing nearly 70 percent of its GDP.
And some are turning their eyes towards the international arena.
Cai Laixing, CPPCC Member, said, "Today Chinese enterprises have entered a period that's going global. We should work out a grand strategy to encourage this trend. For instance, we should implement favorable foreign exchange and credit policies to encourage overseas investment."
Other members say rural reforms, and the reform of state-owned enterprises are two other key achievements.
They say the former has been a big incentive for farmers in boosting output. While the latter has greatly increased the competitiveness of state-owned enterprises.
"Many delegates say China should not be content with being the workshop of the world. It should strive for creativity and innovation. The delegates also say the government should continue to improve people's standard of living as part of its policy of reform and opening up to the outside world. "
Editor:Zhang Pengfei