China
Pelple´s livelihood prominent in proposals
Source: CCTV.com | 03-14-2008 13:37
Special Report: 2008 NPC & CPPCC sessions

As an important part of their political responsibilities, advisors from around the country raised 4,772 proposals during this CPPCC session.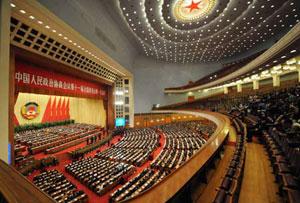 The First Session of the 11th National Committee of
the Chinese People's Political Consultative Conference
(CPPCC), the top political advisory body, began its
closing ceremony in Beijing March 14, 2008.(Xinhua Photo)
As our reporter learns, topping the list of concerns: people's livelihoods.
CPPCC members are elites from almost every important field in China. And their proposals covered a broad range of topics -- from commerce to culture to people's livelihoods.
Jia Qinglin, Chairman of CPPCC National Committee, said, "By delivering speeches, raising proposals, and taking part in group discussions, members made many valuable suggestions, particularly on reforming economic patterns, perfecting socialist market economy mechanisms, developing socialist democratic politics, promoting the prosperity of socialist cultures, holding a successful Olympics and Paralympics, and improving people's lives."
Proposals constitute a significant part of a CPPCC member's duty. In representing their people's wills, advisors may each have different concerns.
Zhang Hongming, CPPCC Member, said, "My proposal of a housing accumulation fund is for the Ministry of Finance. I believe the Ministry will attach importance to it because it concerns everyone who owns or wants to own a home."
Niu Yuesheng, CPPCC Member, said, "My proposal concerns disabled people. Their disadvantage should not be discriminated. Allowing everyone to contribute to the country's development is a reflection of democracy."
CPPCC proposals are not legally binding. But they will be examined by relevant ministries to determine whether they should go forward on record. And departments in charge of handling these proposals are required to reply formally.
"Every year, CPPCC members put forward proposals to offer comments and suggestions on major political and social issues. As part of the historic process, advisors are witnesses to China's democratic steps. And their wisdom is essential to the development of the nation and the people. "
Editor:Zhang Pengfei