China
CPPCC members call for full role
Source: CCTV.com | 03-14-2008 13:37
Special Report: 2008 NPC & CPPCC sessions

We begin here in Beijing where China wrapped up the 1st session of the 11th National Committee of the Chinese People's Political Consultative Conference, the CPPCC, on Friday.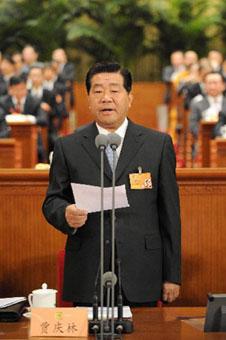 Jia Qinglin, chairman of the National Committee
of the Chinese People's Political Consultative
Conference (CPPCC), presides over the closing
meeting of the First Session of 11th CPPCC
National Committee at the Great Hall of the
People in Beijing, capital of China, March 14,
2008. (Xinhua Photo)
Though this meeting was hailed as an open forum, members hope they can strengthen their advisory and supervisory roles.
The 11 day political session has run its course.
The newly re-elected Chairman of the body's national committee, Jia Qinglin called the past days a "fruitful success".
Jia Qinglin, Chairman of CPPCC, said, "During the session, members have adopted and promoted the fine tradition of equal-footing consultation, seeking common ground while respecting differences, and encouraging cooperation for common goals. They expressed ideas freely and actively, collected various opinions, and created an atmosphere that is democratic, harmonious, relaxed and engaged."
The conference also saw members adopting a political resolution for this session. And even as the conference ends, members are still talking about the issues.
Yang Lan, CPPCC Member, said, "It delights me to see the upgrading of the environment bureau to a Ministry level. This will improve China's environmental protection capabilities."
Zhu Heping, CPPCC Member, said, "My suggestion during the session is the government's free education program focus more on quality."
Fang Fang, CPPCC Member, said, "What impressed me is the free and active discussions among the members on how to better function our role as advisors to the government."
As open as the conference debates were, many acknowledged that there is much room for improvement.
Gu Yeli, CPPCC Member, said, "We should liberalize our thoughts much more, and push forward the democratic role."
Li Jiayin, CPPCC Member, said, "Female members should strive for the rights of the women and elderly, and promote charity causes to help society."
As national committee chairman Jia Qinlin calls this session to a close, he marks the start of the members' 5-year term. They will meet again at the same time next year.
"At each year's session of the conference of China's top political advisory body, we see a growing atmosphere of democracy. This reflects the vitality of the political consultation mechanism. Still, members hope that more of their proposals could turn into policies. They also want to strengthen the supervision of the decision-making process. But, the CPPCC has a long way to go before these goals are realized. "
Editor:Zhang Pengfei