China
HK, Macao advisors have high praise for benefits from closer ties with the Mainland
Source: CCTV.com | 03-13-2008 21:59
Special Report: 2008 NPC & CPPCC sessions

Top political advisors from both the Hong Kong and Macao Special Administrative Regions have given a big thumbs-up to economic achievement under the "One Country, Two Systems" policy. They've had high praise for benefits reaped from stronger ties with the Mainland.
There's a Chinese proverb comparing a close relationship to that between lips and teeth. And many top political advisors are using this analogy to describe the strong economic ties pulling together Hong Kong, Macao and the Mainland.
<!a href=# target=_blank>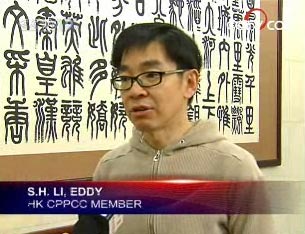 <!a href=# target=_blank>HK, Macao advisors have high praise for benefits from closer ties with the Mainland
Many Hong Kong delegates believe the central government's support has been vital to economic development in the SAR over the last five years.
HK CPPCC member Robert NG said "Five years ago after 2003, Hong Kong went through a period of difficulty with SARSA (SARS???) and economic downturn. The central government helped HK greatly by implementing CEPA, to allow service companies to come to mainland more easily..."
And it goes both ways. One of the factors behind the Mainland's economic success is Hong Kong's contribution as a major financial center. The last three decades have seen Hong Kong account for more than 40 percent of overseas investment... the single largest source of such investment on the Mainland.
But with rising production costs in coastal areas, some Hong Kong investors are trying to remake themselves in order to stay competitive.
S.H. LI, EDDY, HK CPPCC member, said "We need to reform our investment strategy. We need to consider more high value-added products, focus not only in manufacturing, but on marketing...We can do export marketing, we can do... because we have experience. For longer run, these are areas we should consider."
While other CPPCC members say Hong Kong can also help mainland businesses realize their ambitions to go global.
HK CPPCC member K.M.FONG, NELLIE said "The next role HK can play is that the mainland wants to be a player in the world. It's encouraging a lot of industries to invest overseas. But there's still a bridge, hence Hong Kong can play a very important role to help mainland companies to move overseas, use Hong Kong's knowledge and experience to dealing with international community."
Many members foresee greater benefits through further cooperation.
As part of a grand blueprint, a bridge that will link Hong Kong, Macao and the mainland city of Zhuhai is already in the pipeline. Hong Kong also plans to join hands with neighboring Shenzhen to build what they call a world-class metropolis.
With plans that are both new and bold, economic cooperation between Hong Kong, Macao and the mainland is set to enter a new stage. And many hope that stronger ties will inject fresh vitality to development for all three.
Editor:Du Xiaodan