China
Religious groups prepare to serve Olympics
Source: CCTV.com | 03-13-2008 13:41
Special Report: 2008 Beijing Olympic Games

Special Report: 2008 NPC & CPPCC sessions

China's religious groups are preparing to provide services for the overseas athletes and tourists visiting Beijing during the Olympic Games.
<!a href=# target=_blank>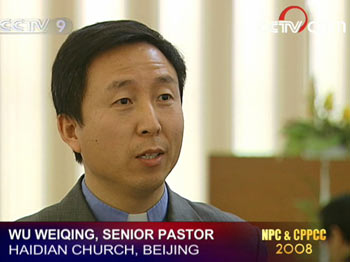 <!a href=# target=_blank>Wu Weiqing is a volunteer for the Olympics. He has been chosen as one of 16 clergy to serve inside the Olympic village.
Haidian Church in downtown Beijing. It's one of 6 services every Sunday, 5 in Chinese, one in English.
Members are likely to meet many foreigners during this year's Summer Olympics.
Wu Weiqing is a volunteer for the Olympics. He has been chosen as one of 16 clergy to serve inside the Olympic village.
Wu Weiqing, senior pastorof Haidian Church, Beijing, said, "To serve in the games is supposed to be an great honour and also a great opportunity for the Church to show people from other countries."
Bibles in different languages will be available for foreign Christians. Inside the Olympic village, a temporary religious center is to be set up, including services for Protestants, Catholics, Buddhists and Muslims.
Yu Xinli, vice director Gen, of Christian Council of China, said, "The Christian doctrine tells us people come to this world to serve. So, providing help to Christian followers coming to Beijing from around the world will be our duty. "
During the CPPCC religious group discussions, leaders expressed their strong support for the Games. They hope through their joint-efforts, the Games will be a harmonious event.
Yang Zhibo, vice-president of Islamic Association of China, said, "We welcome athletes and friends from Arabic and Islamic countries to visit our Association. The Beijing Olympics provides a platform for us to share with each other. "
The association will also help the Olympic Organizing Committee prepare food made for Muslims. And ten prayer leaders speaking Arabic or English will be available for the Games.
Other religions in China are also making preparations.
Xue Cheng, vice-president of Buddhist Association of China,said, "My association will provide psychological consultations to the athletes to reduce their pressure."
As the only indigenous religion in China, Taoism teaches people to live with nature. But the Olympic convention excludes Taoists from serving inside the Olympic center. Master Huang Xinyang's proposal is to re-open a Taoist venue near the Olympic village.
Huang Xinyang, vice-president of Taoist Association of China, said, "We are going to provide English materials about Taoism and stage Taoist performances. We hope through our efforts, this Chinese religion will gain more popularity."
Huang is still lobbying for his ideas, and waiting for answers from the Olympic Committee.
Beijing is expected to receive over half a million overseas visitors during the Games, and many of them have religious beliefs.
The Organizing Committee of the Beijing Olympic Games says religious venues in Beijing, as well as each co-host city, will be open to overseas visitors. Construction of the temporary venues in the Olympic village is under way, and services will be in line with international standards.
Editor:Zhang Ning