China
Chinese FM says foreign athletes may have better luck in Beijing
Source: Xinhua | 03-12-2008 10:33
Special Report: 2008 Beijing Olympic Games

Special Report: 2008 NPC & CPPCC sessions

BEIJING, March 12 (Xinhua) -- Foreign athletes may have a better luck in breaking world records in Beijing's Olympics, Chinese Foreign Minister Yang Jiechi said Wednesday.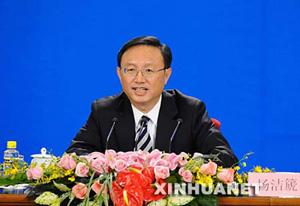 Chinese Foreign Minister Yang Jiechi answered questions
of domestic and overseas journalists on Wednesday morning
on the sideline of the annual parliament session.
(Xinhua Photo)
Yang made the remarks at a press conference on the sidelines of the annual session of the parliament, in response to a question concerning Beijing's air quality.
Yang dismissed worries of some athletes about air pollution in Beijing, saying that many Chinese athletes have broken world records in China, especially at the venues in Beijing.
"If they (foreign athletes) cannot break world records in other places, maybe they can come to Beijing, where they will have a better luck," he said.
Yang said that China takes climate change seriously and has adopted a full range of effective measures to cope with the issue.
"I believe the air quality in Beijing will only become better and better," he said.
China is able to ensure good air quality during the Olympic Games, fulfilling its commitment made seven years ago to the Olympic bid, Zhang Lijun, deputy head of the State Environmental Protection Administration, told reporters on Tuesday.
Chinese environment authorities are keeping a close watch over major pollution indices everyday, including sulfur dioxide, carbon monoxide, nitrogen dioxide and particulate matters, Zhang said.
Beijing has put 120 billion yuan (16.9 billion U.S. dollars) in improving air quality in the past years, and the number of "blue sky" days, or days with fairly good air quality, increased to 246 last year from 100 in 1998, he said.
Meanwhile, Beijing's neighboring municipality Tianjin, the provinces of Hebei, Shanxi and Shandong, and the Inner Mongolia Autonomous Region are lending a hand to the capital to attain anti-pollution goals, Zhang said.
Editor:Zhang Pengfei