China
Chinese top political advisor calls for prosperity in Muslim region
Source: Xinhua | 03-11-2008 08:22
Special Report: 2008 NPC & CPPCC sessions

BEIJING, March 10 (Xinhua) -- Chinese top political advisor Jia Qinglin called for prosperity in the northwestern Ningxia Hui Autonomous Region on Monday.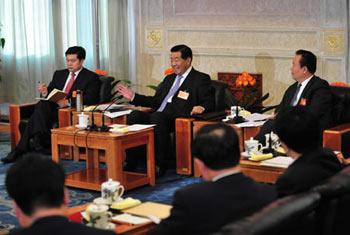 Jia Qinglin (2nd L), member of the Standing Committee of the
Political Bureau of the Communist Party of China (CPC) Central
Committee, meets with deputies to the First Session of the 11th
National People's Congress (NPC) from northwest China's Ningxia
Hui Autonomous Region in Beijing, capital of China, March 10,
2008. Jia Qinglin joined in the panel discussion of Ningxia
delegation on Monday during the First Session of the 11th NPC.
(Xinhua Photo)
Jia, chairman of the 10th National Committee of the Chinese People's Political Consultative Conference, made the remarks when deliberating the government work report together with deputies to the 11th National People's Congress, the national legislature.
"This year marks the 50th anniversary of the founding of Ningxia, a big event for more than 6 million people in the region," said Jia, also a top leader of the Communist arty of China.
While emphasizing economic reform and opening up, and the improvement of people's livelihood, Jia called on the NPC deputies to exert joint efforts for a better future of Ningxia.
The senior official also stressed solidarity among different ethnic and religious groups so as to achieve a better environment for economic and social progress.
The 66,400-square-kilometer autonomous region is the biggest area in China inhabited by Muslim people.
Editor:Zhang Ning