China
CPPCC holds 3rd plenum meeting
Source: CCTV.com | 03-09-2008 17:25
Special Report: 2008 NPC & CPPCC sessions

The third plenum meeting of the first session of 11th CPPCC was held on Sunday. Chinese political advisors continued to raise their proposals on major state affairs.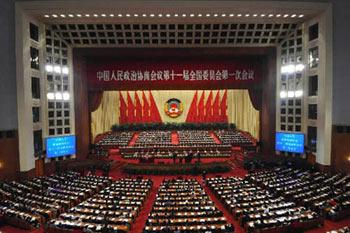 Chinese political advisors on Sunday Morning continued to
raise their proposals on major state affairs at the annual
session of the 11th National Committee of the Chinese People's
Political Consultative Conference (CPPCC).(Xinhua Photo)
Sixteen CPPCC National Committee members spoke at the meeting.
Jia Qinglin,Chairman of the 11th CPPCC presidium, was in attendance.
On behalf of the Central Committee of the Revolutionary Committee of the Chinese Kuomintang, CPPCC member Li Wuwei said the Taiwan issue concerns China's reunification and the core interests of the country.
Li said the non-Communist parties should make efforts to benefit the people across the Taiwan Straits and sovereignty and territorial integrity. He says the non-Communist parties should uphold the peaceful development of cross-Straits relations.
CPPCC member Li Wuwei said, "We hope a full-scale investigation will be carried out into the condition and the problems of Taiwan companies in the mainland. It will provide a better environment and conditions for Taiwan businesspeople in the mainland."
And CPPCC member Yu Sun-Say from Hong Kong suggested the Special Administrative Region should strengthen its role as an international market while seeking to merge with the mainland's economy.
CPPCC member Yu Sun-say said, "The preparation of the twelfth five year plan will start soon. It would be useful to call for the participation of Hong Kong professionals in drawing up the national development plan that begins in 2011. "
CPPCC member Li Lijun proposed a complete official accountability system that puts officials under the oversight of the powers of political morality, discipline and law.
On behalf of the National Women's Association, CPPCC member Zhang Shiping called for more support for children in rural areas, whose parents work in urban areas. She said the urban and rural development should be balanced and public management service should be strengthened. This would include setting up more boarding schools for those children.
Editor:Zhang Ning