China
Re-employment for older workers
Source: CCTV.com | 03-09-2008 12:52
Special Report: 2008 NPC & CPPCC sessions

Like many of China's highly developed economic zones, the city of Tianjin has switched its focus over the last two decades from traditional industries, such as textiles and machinery, to electronics and information technology. But this has left a generation of factory workers without a job, and unable to find a place in the new economy.
<!a href=# target=_blank>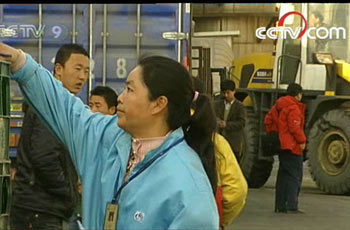 <!a href=# target=_blank>Warehouse worker Zhou Xuehong
Zhang Qiyong works on the assembly line at the Huaren beer factory, where the danger of exploding bottles is very real. His wife toils under the bright sun at the warehouse outdoors. But though their jobs are hard, they consider themselves lucky, because not so long ago, they were both out of work - and for a very long time. Zhou used to work at a housewares factory.
Warehouse worker Zhou Xuehong said, "The factory was losing money, so they ended my contract."
Zhou stayed home to raise their daughter. But soon afterwards, her husband got the same bad news.
Zhou Xuehong said, "When he lost his job, he was so depressed. I said, just get out there and we'll find another job. He told me not to worry."
But odd jobs earned them a maximum of 500 yuan, or 70 US dollars, a month - not nearly enough for a family of three.
Factory worker Zhang Qiyong said, "They were hard and exhausting jobs, and they paid very poorly. And private companies made it very hard to get paid at all."
Though Zhang's only forty, he's considered too old for most factory jobs. And when older workers get laid off, it's harder to get rehired. Younger, stronger workers with newer skills are leaving their seniors far behind.
By 2006, the couple had been unemployed for almost eight years. But then they heard about Tianjin's Labor Union - and how it was designed to help people just like them.
The Union's Aid Center offers services for the city's laid-off workers. People can apply for emergency funds and get free legal advice.
And there's also a supermarket here that sells goods below market price - rice, flour, cooking oil - even medicine.
The Tianjin Aid Center for Workers in Difficulty opened its doors in 2002. Now, cities and provinces all over the country are using the center as a model for how to help the people most impacted by China's changing economy.
The center's manager says that after being out of work for many years, the unemployed sometimes lose hope.
Wang Huirong, manager of Tianjin Aid Center, said, "This center is really to remind these people that the government, the city, and society have not forgotten them."
The center also offers job search services. That's how Zhang and his wife ended up at the beer factory, where they now earn almost 3000 yuan a month.
Zhou Xuehong said, "For the older and less, it's hard because their technical skills and education level aren't very high. So my wish is that the government can arrange for more people to have good stable jobs. So we can all feel like we've come home again."
After years of feeling like they were alone and going nowhere, the family is finally moving forward.
Editor:Zhang Ning