China
Wu Bangguo looks back on 10th NPC Standing Committee
Source: CCTV.com | 03-08-2008 19:18
Special Report: 2008 NPC & CPPCC sessions

The NPC Standing Committee will pass more social legislation, focusing on improving people's welfare.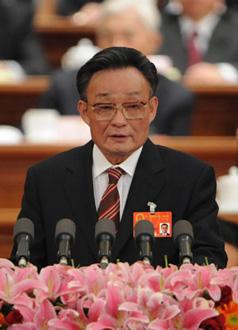 Wu Bangguo, chairman of the Standing Committee
of the 10th National People's Congress (NPC),
delivers a report on the work of the NPC Standing
Committee during the second plenary meeting of
the NPC session at the Great Hall of the People
in Beijing, March 8, 2008. (Xinhua Photo)
On Saturday, China's top legislator, Wu Bangguo delivered that message at the ongoing National People's Congress.
He also looked back at the past 5 years of work carried out by his committee.
In the name of the previous Standing Committee of the NPC, Wu Bangguo presented a work report to the deputies for their deliberation.
Wu Bangguo, Chairman of Standing Committee of NPC, said, "We convert the stand of the Party into the will of the state through legally defined procedures. We attach importance to revising and improving current legislation."
Over the past 5 years, the Standing Committee has passed one hundred draft laws and regulations. Among them, the Anti-Secession Law provides the legal backing to oppose Taiwan independence.(file out) The Enterprise Bankruptcy Law establishes a legal framework for the orderly withdrawal of enterprises from the market. And the Labor Contract Law grants laborers legal support to protect their rights.