China
Migrant workers concern about new measures of social security
Source: CCTV.com | 03-07-2008 13:35
Special Report: 2008 NPC & CPPCC sessions

One of the many challenges facing the Chinese Government in building a better-off society is creating a social security network that benefits everyone. How to provide equal access to the network is a hot topic being debated among lawmakers and political advisers at the two,annual sessions.
<!a href=# target=_blank>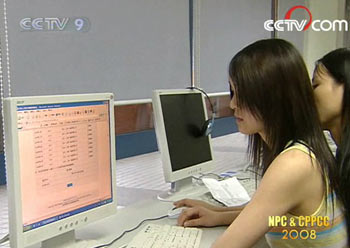 <!a href=# target=_blank>Every month, these young workers log onto the local government's website to check their social security status.
With pension contracts in hand, 20-year-old Zhang Mei and her colleagues are discussing how they can benefit from the policy. As young migrant workers in the bustling city of Shanghai, they are concerned about any new measures.
Every month, these young workers log onto the local government's website to check their social security status. Just by typing their ID numbers, they can find out how much money they have in their accounts. Zhang Mei says she needs this kind of guarantee for her future.
Migrant worker Zhang Mei said, "Now I'm still young. But my health will definitely not be as good after I turn 50. My company helped us enroll in the social security program. It will more or less compensate us when we get older."
Zhang works for a computer manufacturer. She is among the 2 million migrant workers who benefit from Shanghai's social security program.
Shanghai is currently one of the few cities in China that include migrant farmer workers in their social security networks.
A local official says although the system is far from perfect, the government is improving it every year.
Sheng Zuhuan from Shanghai Municipal Labor & Social Security Bureau, said, "Migrant workers have become a driving force in Shanghai's economic development. They contribute to the city's prosperity. There is no doubt that their social protection should be improved."
The official says the network is eventually expected to cover all of Shanghai's 4 million migrant workers, who account for two fifths of the city's labor-force.
The influx of migrant workers to cities makes it urgent for a broader social welfare network. But the fact is that among the 100 million or so migrant workers in China, only a small percentage are provided with social security. For the rest, the road to such social protection remains long and arduous."
In the past, Chinese farmers were all but confined to their land and granted little access to the social welfare system designed for urban dwellers.
But even after the country's economic reforms made it possible for rural residents to work in cities, they were still unable to enjoy housing, medical and unemployment benefits, or even pensions.
Chinese scholars estimate that fewer than 10 percent of migrant workers now enjoy the same social benefits as their urban counterparts.
Some migrants at this railway station hope that the government can play a bigger role in improving their social welfare status.
A migrant worker said, "The government should adopt measures to make social security a compulsory policy."
But the world's biggest developing country is undergoing great social changes, and a national social security network is unlikely to be set up overnight.
Some experts have called for a gradual process.
Zhang Yi from Chinese Academy of Social Sciences said, "Chinese Academy of Social Sciences"Personally, I think the government should solve migrant workers' injury insurance first, medicare second, and pensions third. In other words, to solve their problems step by step, according to what they need most."
Zhang Mei feels more at ease with her social security account set up. But for millions of other migrant farmer workers like her, they are still hoping for a better work environment for themselves, and for future generations.
Editor:Zhang Ning