China
Spacewalk on course for October
Source: China Daily | 03-07-2008 11:40
BEIJING, March. 7 -- China is planning to conduct its first spacewalk in October from a Shenzhou VII spacecraft, senior space engineers said Wednesday.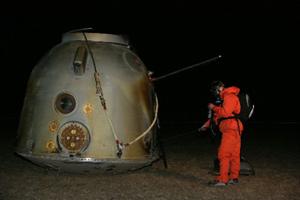 Photo taken on Oct. 17, 2005 shows the re-entry capsule
of China's second manned spacecraft, Shenzhou-6, at its
landing site in Siziwang Banner (County), north China's
Inner Mongolia Autonomous Region. The re-entry capsule
of the Shenzhou-6 sapcecraft, which blasted off on Oct.
12 from the Jiuquan Satellite Launch Center in northwest
China's Gansu Province, touched down at the landing site
in Siziwang Banner, at 4:33 am Oct. 17 (2033 GMT)
following a five-day mission. (Xinhua File Photo)
They also said a research team had been set up to conduct a feasibility study for a space station.
Wang Yongzhi, former chief designer of China's Manned Space Program, said the launch date had originally been scheduled for after the Olympics (Aug 8 to 24) and Paralympics (Sept 6 to 17).
"The Shenzhou VII will be launched some time in October if everything goes as planned," he said on the sidelines of the ongoing session of the 11th National Committee of CPPCC.
"The exact launch date will be decided according to weather conditions."
Shenzhou VII, to be launched from the Jiuquan Satellite Launch Center in Gansu province, will be the country's third manned mission. Shenzhou VI was launched on Oct 12, 2005, and Shenzhou V on Oct 15, 2003.
With the launch of Shenzhou V, China became the third country, after the Soviet Union and the United States, to carry out a manned space mission.
Qi Faren, former chief designer of the Shenzhou spacecraft series, said the country is technically ready to carry out its maiden spacewalk.
There will be three taikonauts, as China's astronauts are known, aboard the Shenzhou VII. One of them will be conducting the spacewalk.
"We have achieved breakthroughs in all of the areas needed (for the spacewalk) and also completed all ground tests," Qi, a member of the CPPCC National Committee, said.
"We are now in the final stages of inspections and tests."
The spacewalk requires high technical standards for security and the life support and energy supply systems, as the taikonauts will spend three to five days in space.
In addition to the spacewalk, the crew is expected to perform such extra-vehicular work as installing equipment and tightening screws.
Qi said 14 taikonauts, all male, are undergoing intense training, but the final three have yet to be decided.
Yuan Jie, president of Shanghai Academy of Spaceflight Technology, said earlier this year that the spacewalk might be broadcast live.
He said Shenzhou VII is equipped to record images of the walk, but it has not been decided if the broadcast will be live or a recorded version.
Qi said yesterday the ability to conduct a spacewalk is crucial to establishing a big space laboratory or station.
"As the taikonauts will move out of their spacecraft to swap places with the occupants of other space vehicles, the mission will offer a crucial technical practice for building a large space lab or station in the future," he said.
Wang Yongzhi also said experts had been conducting a feasibility study for a space station.
"Our space station plan is still being appraised and has yet to be approved by the space administration," he said. "So there is no specific timetable."
But he said officials had been pushing hard for the country to build a space station by 2020, the third and final phase of its manned space program.
Editor:Zhang Pengfei