China
Panel discussions open to media
Source: CCTV.com | 03-07-2008 09:35
Special Report: 2008 NPC & CPPCC sessions

Nine delegations attending the NPC's annual session opened their panel discussions to the media today. Our reporter Xu Zhaoqun was with the Beijing delegation and brings us a few Deputies' opinions on the current economic situation and preparations for the Olympics.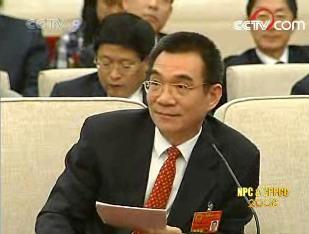 Deputy Lin Yifu
While highly praising the Premier's government Work Report, Deputy Lin Yifu frankly expressed the view that drawbacks still exist and economic reform needs to be deepened.
Lin says the banking system and stock market need further improvement because it is difficult for small-and-medium-sized business to raise funds from these institutions.
Lin suggests the government provide more support to help these businesses receive funding through various channels.
LiN Yifu, NPC Deputy said "Small and medium sized enterprises are important in improving the employment rate, and raising the people's income, which is the crucial point to reverse the unreasonable wealth distribution structure. And this has been mentioned in the premier's government work report."
Lin says these enterprises have to face the challenges of technology upgrading and the government should provide more professional training for them.
Olympic preparations is another hot topic as the deputies answered media's questions.
Deputy Wang Wei told the reporters preparations are going well and this is recognized by the International Olympic Committee and the international community.
Wang Wei, NPC Deputy said "The concept of Green Olympics, or environmental friendly Olympics, has become a consensus of the organizers and the Beijing citizens. We hope this will help enhance the people's consciousness in environmental protection. and we are confident we can make it."
Other deputies stressed that Beijing should play a leading role in the construction of a innovation oriented country.
Editor:Xiong Qu