China
Non-Communists take part in state administration
Source: CCTV.com | 03-07-2008 08:41
Special Report: 2008 NPC & CPPCC sessions

More non-Communists and non-politically affiliated people are expected to become high-ranking officials in China.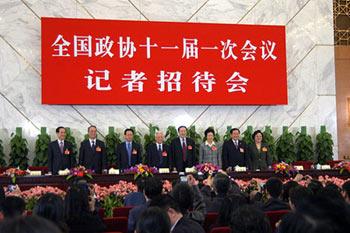 Leaders of China's eight non-Communist parties meet the press
together at a joint press conference for the first time on
the sideline of the annual parliamentary and political advisory
sessions in Beijing, capital of China, March 6, 2008.
(Xinhua/Pang Xinglei)
This, as the system of multi-party co-operation and political consultation develops further under the CPC leadership. As we find out now, it's being reflected by eight democratic party leaders.
They are the leaders of China's eight non-Communist parties. They represent specific interest groups and share seats in the legislature. They serve as a channel of complaints and suggestions from all social strata.
Zhou Tienong, Chairman of Revolutionary Committee of Chinese Kuomintang said, "Consultation is playing a significant role in the development of China's political democracy."
The Constitution states "multi-party cooperation and consultation under the leadership of the CPC shall exist for a long time."
Since China's reform, the country has witnessed an increasing number of non-Communists in government posts.
Wan Gang, Chairman of the China Zhi Gong Party, was the first non-CPC minister since the late 1970s. Last April, he was appointed Minister of Science and Technology. And Scientist Chen Zhu, who is not affiliated to any party, became Minister of Health.
Chen Zhu, member of Non-party Affiliate, said, "The Party Committee sets the direction, while I'm responsible for the administration. And before major decisions are made, we are in full consultation."
Chen and Wan share similar advantages in terms of their professional achievements, making them favored by the ruling CPC.
Across China, more than 31,000 non-communists work as officials, at and above county level.
Yan Junqi, Chairwoman of Democratic Nat'l Construction Assoc., said, "It's a significant move in the development of China's political democracy. This is beneficial to scientific decisions and democratic supervision."
Wan Gang says the CPC introducing non-Communist officials from democratic parties and non-party affiliates is a win-win situation.
Wan Gang, Chairman of Zhi Gong Party, said, "Non-Communist elite enjoy more opportunities, while the CPC has more choice in finding talent. Yet it's not meaningful to count the proportion of non-Communists in top posts, the most important standard should be whether you can carry out your duty."
China is promoting a harmonious society, and harmony requires listening to different opinions. The non-CPC members is becoming senior officials is a concrete sign in this. And it also reflects the confidence of the CPC as it leads the country forward.
Editor:Zhang Ning