China
Top leaders greet HK, Macao delegations
Source: CCTV.com | 03-07-2008 08:22
Special Report: 2008 NPC & CPPCC sessions

Chinese President Hu Jintao and other top leaders have met NPC deputies and CPPCC members from the Hong Kong and Macao SARs.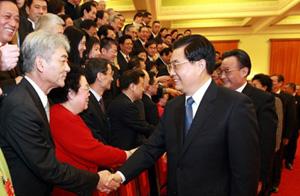 President Hu Jintao (R) and other top leaders greet
NPC deputies and CPPCC members from Hong Kong and
Macao in the Great Hall of the People in Beijing
March 6, 2008. [Xinhua]
Hu Jintao says much importance is given to the well-being of both regions while he underlined China's view for a better future for the SARs.
A warm welcome by China's top leaders to delegations from Hong Kong and Macao.
In his speech to over 280 NPC deputies and CPPCC members from Hong Kong and Macao, President Hu Jintao spoke highly of the important role played in China's development and modernization by people in Hong Kong and Macao.
He says China witnessed historic changes during 30 years of reform and opening-up, and they made great contributions.
Hu Jintao urged the them to work for a stable and prosperous Hong Kong and Macao and encouraged them to participate in state affairs and improve the "One-country, two systems" policy.
Hu Jintao said, "It has been clearly demonstrated that the principles of "One country, two systems", "Hong Kong people governing Hong Kong" and " Macao people governing Macao" have been shown to be successful since Hong Kong and Macao returned to the motherland. The compatriots from Hong Kong and Macao are competent to administer and build Hong Kong and Macro with their wisdom and capability. The central government will always support the stability and prosperity of these two regions."
Hu Jintao also reiterated the central government's policy of bringing a better future to the two SARs.
Hu Jintao said, "I hope both the Hong Kong and the Macao SAR governments and their people will keep up with the steady development of their economy, continue to improve their people's livelihood, stand united and carry forward the spirit of democracy. Only by achieving these goals can the two regions' long-term stability and prosperity be ensured."
The president also expressed gratitude on behalf the central government to the people of Hong Kong and Macao for their contribution to the relief and reconstruction work for the stormsnow-hit regions in Southern China this year.
Editor:Zhang Ning