China
Recovering farmers hoping for a better year
Source: CCTV.com | 03-04-2008 19:26
Special Report: Winter Storm Relief

Special Report: 2008 NPC & CPPCC sessions

The winter storms in January caused serious damage to agriculture in affected areas in China.
Revitalizing the sector and helping farmers get back on their feet is high on the agenda of this year's NPC and CPPCC sessions.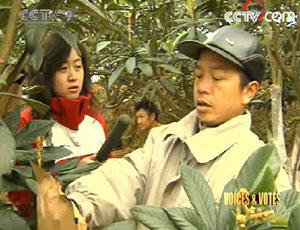 The winter storms in January caused serious damage
to agriculture in affected areas in China.(CCTV.com)
Our reporterwent to Guizhou, one of the worst-hit provinces, to see what farmers there have done to move on.
Liao Zhengming is a farmer who makes his living growing loquats. His work today is recovering paper bags covering the unripe fruit. But that does not mean there's been any progress in the growth process. On the contrary, it means an end.
Liao Zhengming, Farmer, said, "All of the fruit is dead because of the freezing weather in late January. The paper bag coverings are now useless."
Collecting the paper bags is only for recycling. If all the bags can be used again next year, it will save Liao about 30 thousand yuan.
Although the figure is small compared to the overall loss of 400 thousand yuan, it is the only thing he can do to minimize the loss.
Zhang Lu, Guizhou Province, said, "Liao Zhengming is not the only one who's suffered. Farmers raising stock have also felt the chill. In the neighboring village, He Shiying tells us her story."
He Shiying is clearing the debris from her collapsed henhouse. The house was totally destroyed by snow and ice one month ago, leaving half of the chickens inside dead and the other half injured. Remnants of the collapse still can be seen outside the house.
He Shiying, Farmer, said, "I have 3,200 chickens, more than 1,500 were killed. The henhouse was totally destroyed, the roof, the wall and all the facilities. I was really depressed in the beginning."
Rebuilding work started two weeks ago. She says that will cost her about 17 thousand yuan, which equals almost a year's income. Fortunately, government assistance came in time. Local agricultural officials have sent her 10 thousand yuan to help recover from the situation.
Liao Zhengming, Farmer, said, "Low interest loans are useful for us. We desperately need money after such a bad time. If the credit can be increased to more than 100 thousand, that would be even better."
Repair work on her henhouse has already finished and her chicks have already been moved in. But He Shiying will soon be happy as well.
Her new structure will be finished in just a few days and new chicks are on their way.
She's confident that in about three months they will grow up and her business will flourish again.
Editor:Zhang Pengfei