China
Beijing rehearses Olympic volunteers in upcoming "two sessions"
Source: Xinhua | 03-03-2008 10:27
Special Report: 2008 NPC & CPPCC sessions

More than one million volunteers are expected to provide services such as helping maintain traffic orders and patrolling the street in Beijing during China's upcoming parliament and political advisory body's annual sessions as a rehearsal for the Olympics.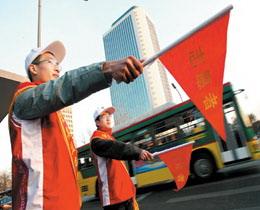 Two volunteers direct traffic at an intersection
in Beijing on March 2, 2008. More than one
million Olympic volunteers will help maintain
traffic order and patrol Beijing streets during
China's parliament and political advisory body's
annual sessions. [Photo: Beijing Morning Post]
The volunteers would provide services at 100 busy crossroads and bus stations in the city proper and join the patrols in local communities, officials with the Beijing Olympic Volunteer Program Coordination Group said.
The volunteers were expected to "accumulate experience and cultivate a harmonious social environment" during the sessions of the National People's Congress and the Chinese People's Political Consultative Conference, which were scheduled to start on Wednesday and Monday and last more than two weeks.
The sessions would draw more than 5,000 delegates to the city.
Beijing Traffic Management Bureau has promised to ensure the delegates' punctuality and minimize the influence on local residents' lives by taking measures including updating the traffic situations with broadcast and Internet and making the traffic control as scientific as possible.
By February 14, more than 930,000 have applied to be volunteers for the Beijing Olympic Games and more than one million have applied to be "City Volunteers", who would be working at designated spots across the city to ensure the smooth progress of the Games and offer services to the many visitors to Beijing, according to the Beijing Organizing Committee for the Olympic Games.
Editor:Du Xiaodan